Airbus could delay the launch of a hydrogen-powered aircraft later this decade if it cannot be certain that sufficient quantities of green hydrogen will be available to support operations in the mid-2030s.
Guillaume Faury, Airbus chief executive, says the surety of future hydrogen supplies is one of the biggest stumbling blocks to any product launch.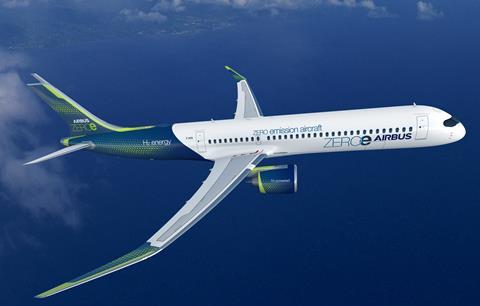 "To have airlines flying hydrogen planes in the second half of the next decade we will need to have a plane certified, delivered and produced. That is in our hands. But it is probably not the most difficult part of the equation," he said, speaking at the Airbus Summit 2022 today.
Having the "right quantity [of hydrogen] in the right place at the right price" is a "big concern for me", says Faury.
Airbus will need to decide in 2027 or 2028 whether to launch a hydrogen-powered aircraft, says Faury. At that point "should we face a situation where there will be no certainty" on green hydrogen supply at service entry in 2035 "that could be a reason for delaying the launch of the programme even if the technologies for the plane are mature," says Faury.
This is driving Airbus to explore the entire hydrogen ecosystem, something that has not been required with conventional fuels. "This was enough for the past decades but probably not enough for the future."
Additionally, Airbus is collaborating with other bodies to establish the regulatory framework that will be needed to certify and operate hydrogen-powered aircraft, says Faury.
While there is a continued focus on hydrogen as a future fuel, Faury called for more to be done to stimulate the market for sustainable aviation fuel (SAF) where "ambition is not yet matched by action".
To achieve aviation's net-zero targets, SAF use needs to reach 10% by 2030, rising from just 1% at present.
European mandates stipulate 6% SAF use by 2030, but Faury believes this needs to go further. "We will be using other ways to convince the airlines that they need to go to 10%."
Airbus is aiming to have its entire range certificated to run on 100% by 2030, but Faury sees no need to accelerate that process.
"It could be done faster but we don't see a need to be much faster at the moment."