Gulfstream is increasingly confident the Federal Aviation Administration will certificate its in-development large-cabin G700 business jet before year-end.
"We now target certification in the fourth quarter and see no major obstacles in our path," Phebe Novakovic, chief executive of Gulfstream parent General Dynamics, says on 26 July. "The aircraft design, manufacturing and the overall programme are very mature."
Gulfstream has several times delayed its certification timeline for the 19-passenger, 7,500nm (13,890km)-range G700. It has cited increased scrutiny by the FAA following the agency's widely criticised certification of Boeing's 737 Max.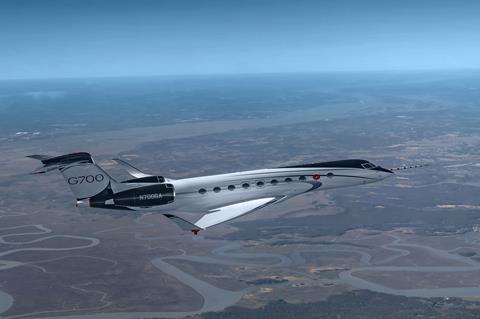 The latest timeline – for fourth-quarter certification – largely aligns with comments made by Gulfstream president Mark Burns in May, who said he expected the FAA would clear the G700 this autumn.
Speaking during General Dynamic's second-quarter earnings call on 26 July, CEO Novakovic explained why she is confident the G700's approval is close at hand.
"We will complete our FAA Type Inspection Authorization in September. This is the flying we are required to do pursuant to FAA requirement and plan," she says. "When we are finished, the FAA will fly some confirmatory flight tests to verify portions of our results. That will be followed by a brief period of paper submission, followed by FAA review."
Gulfstream had previously hoped to get some G700s into customers' hands in the third quarter, but it now anticipates those deliveries will come in the fourth, Novakovic adds.
Meanwhile, Gulfstream is also developing the G700's sister ship, the 8,000nm-range G800. In May, Burns said the G800's FAA certification could come in early 2024.
Both jets are powered by twin Rolls-Royce Pearl 700 turbofans.