General Dynamics still hopes subsidiary Gulfstream will have its in-development G700 certified by mid-2023 but now cautions that the resource-constrained Federal Aviation Administration could impact the timeline.
Phebe Novakovic, General Dynamics' chief executive, raised that caveat on 26 October.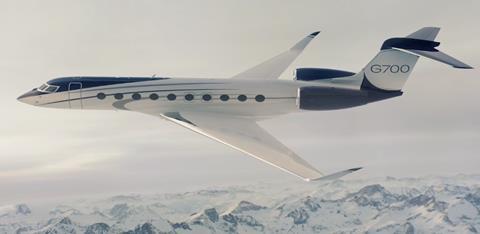 "We are sticking with, at the moment, our summer 2023 estimate," Novakovic says during General Dynamics' third-quarter earnings call.
"But much depends on available FAA resources," she adds. "Ultimately, this is an FAA issue."
Her comments come amid heightened certification scrutiny by the FAA following two 737 Max crashes. That FAA took heat for signing off on the Max's flight-control system.
When launching the large-cabin G700 in October 2019, Gulfstream aimed to have it certificated by end-2022. The 19-passenger, Rolls-Royce Pearl 700-powered aircraft will have 7,500nm (13,890km) of range, Gulfstream says.
But in April, General Dynamics said the milestone would be three to six months late – putting it to mid-2023 – due to heightened review by the FAA of the G700's software.
Then in May, the FAA subjected Gulfstream's G500 and G600 to significant operating restrictions due to a flight-software problem that caused two hard landings. Gulfstream has since rolled out a software fix for both types.
On 26 October, Novakovic says the G700's certification should progress smoothly, calling it "the most mature aircraft to enter the FAA's certification process". Gulfstream aims to have another in-development type – the 8,000nm-range G800 – certificated six months after the G700.
Boeing likewise delayed its 777-9, Max 7 and Max 10 certification timelines due to additional FAA oversight.