General Dynamics aerospace business is working to address supply chain shortages that threaten subsidiary Gulfstream's ability to meet unprecedented demand for new business jets.
Speaking on 26 January, General Dynamics chief executive Phebe Novakovic says the company is dealing with a tight supply of wings, which it makes in house.
"We need to expand our new modern wing facility and acquire another set of tools and fixtures," she says. "All of this is underway and will be in place to satisfy our needs for [2023] and beyond."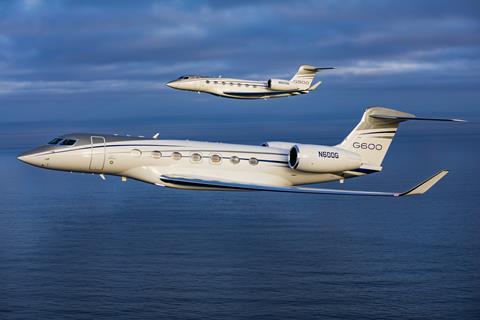 Her comments came as General Dynamics reported that its aerospace division, which Gulfstream anchors, earned a $1 billion profit in 2021, down 5% from 2020.
The company's aerospace revenue inched up 1% year-on-year in 2021 to $8.1 billion.
But aircraft deliveries slumped to 119 aircraft in 2021, including 103 large-cabin and 16 medium-cabins jets. That is down from Gulfstream's 2020 deliveries of 127 aircraft, among them 105 large-cabin and 22 medium-cabin aircraft.
The Savannah airframer plans to hike deliveries to 123 jets this year, and generate $8.4 billion in revenue. "We will increase production in 2022, but not to where it needs to be", Novakovic says.
"Our ability to ramp up further in [2022] is limited by the wing supply issue… which will be remedied for" 2023, she says. "This is just simply a question of expanding a wing facility, just a touch, and we need another set of tools."
Fixing wing shortages will let Gulfstream deliver an estimated 148 aircraft in 2023 and 170 in 2024, assuming demand suffices, Novakovic adds.
Supply pressures are hitting Gulfstream as customers clamour for business jets, the company says.
Fourth-quarter 2021 "order activity… was beyond anything we had seen since 2008 with the introduction of the G650," Novakovic says. Demand accelerated through 2021 and was "red hot in the fourth quarter".
General Dynamics' aerospace backlog stood at $16.3 billion at the end of 2021, up 40% from one year earlier.
Gulfstream continues advancing G700 certification work. It is flying five of the jets and has completed 2,200h of flight tests, with 65% of tests complete, Novakovic says. The airframer has said the jet will enter service by year-end.