Gulfstream's second flight-test variant of its G800 ultra-long-range business jet has taken to the skies, completing its maiden flight on 15 July.
The jet took off from Savannah in Georgia at 09:27 local time and flew for 3h 26min, reaching a speed of Mach 0.935, the company says on 17 July.
Gulfstream, also based in Savannah, has said it will use three aircraft for its G800 flight-test and certification programme. The G800 is a 19-passenger business jet advertised as having 8,000nm (14,816km) of range.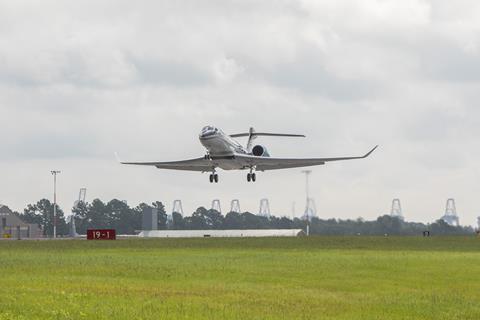 The manufacturer aims to have the jet certificated by the Federal Aviation Administration in 2024.
"The second G800 flight-test aircraft is dedicated to environmental control systems, avionics and flight controls [testing], and builds on the more-than 1,600 test points already accomplished by the first G800 flight-test article," Gulfstream says.
The company launched both the G800 and G400 development programmes in October 2021.
The G800 is sister ship to Gulfstream's 7,500nm-range G700, which has a slightly longer cabin than the G800. The types are powered by twin 8,250lb (81.2kN)-thrust Rolls-Royce Pearl 700 turbofans and have Honeywell's Symmetry Flight Deck avionics.
Gulfstream completed first flight of its first G800 test aircraft on 28 June 2022.
It is certificating the G800 alongside the G700, which the company launched first, in October 2019. The G700 flight-test and certification effort involves seven jets, but similarities between the types mean Gulfstream can use some G700 test results for the G800 programme.
For that reason, Gulfstream needs only three G800s for flight and certification testing, with the third aircraft to be dedicated to testing cabin systems and components, it has said.
"Thanks to the design philosophy behind our next-generation fleet, the G800 is also benefiting from the excellent progress we continue to make in the Gulfstream G700 flight-test programme," says Gulfstream president Mark Burns. "This commonality helps us enhance efficiency and reliability."
Both certification programmes remain ongoing and have been delayed due to increased scrutiny by the FAA, executives have said. Burns has also attributed delays to the FAA's certification team being short staffed.
In May, Gulfstream pushed back the timelines again. At that time, Burns said he was "hopeful" the G700 would be approved by the FAA in autumn, followed by G800 certification in the "early part" of 2024.
"We are a little bit at the mercy of our regulators," Burns said.
Gulfstream is also still developing the smaller G400, based in its G500 and G600. The company aims to begin delivering the G400, with an advertised 4,200nm of range, in 2025.