Heart Aerospace's ES-30 will be more than twice as heavy as the previously proposed ES-19, with a wingspan that also grows by nearly one-third, according to the manufacturer's preliminary data.
Unveiled on 15 September at a hangar day event at the company's Save airport headquarters near Gothenburg, Sweden, the 30-seat ES-30 is a hybrid-electric regional aircraft that replaces the 19-passenger ES-19, development of which has now been discontinued.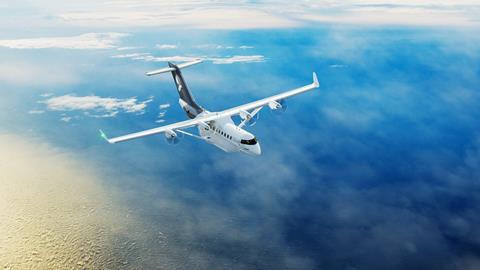 No longer constrained by the 8,618kg (19,000lb) weight limit of Europe's CS-23 regulations, the CS-25-compliant ES-30 has gained significant mass over its predecessor.
Maximum take-off weight is now in the 20-21t range, of which 5t is batteries, says head of marketing Claudio Camelier. However, he cautions that the aircraft's weight and dimensions could still change as it progresses through the design process.
"Once we took the action to move into CS-25 that limit ceased to apply; it has allowed us to look at many other aspects of the airplane to make it more applicable to airlines," he says.
Wingspan has also increased to 30.77m (101ft), from 23m on the ES-19, while the ES-30's fuselage is 22.7m long, a 5.2m rise over the smaller aircraft.
Much of that additional fuselage length is required to accommodate a larger baggage compartment and a pair of 800kW-class turbogenerators, which allow range to be extended to 216nm (400km), or 431nm with 25 passengers aboard.
Additional room for passengers has been created by an expanded fuselage, growing from 1.46m-wide on the ES-19 to 2.21m on the ES-30, allowing a switch to a 2+1 seat configuration against 1+1 previously.
Although billed as a 30-seater, Heart is also offering the ES-30 in a high-density 34-passenger configuration, featuring seating with a pitch of 29in in the forward cabin and 30in at the rear.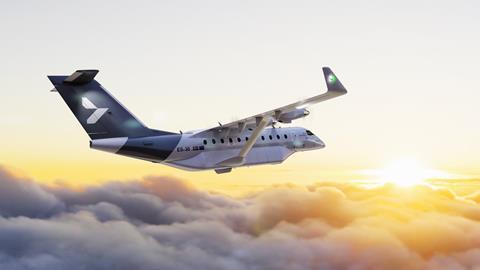 Other changes include the addition of a wing-fuselage brace and a large fairing below the fuselage that houses the battery packs, rather than in the nacelles of the ES-19.
Camelier says the fuselage-wing brace was required due to the length of the "very high-aspect ratio" wing, which as a trade-off for its improved efficiency "imposes challenges on the structural design".
Heart has engaged several well-known suppliers such as Aernnova and Garmin on the programme, but has yet to settle on suppliers for crucial components such as the battery pack or 700kW-class electric motors.
Although Heart had been working on its own electric motor it is unclear if these will be used on the final design; indeed, representatives from Magnix – including chief technical officer Riona Armesmith – and Evolito were present at the hangar day.
Anders Forslund, founder and chief executive of Heart, says the company has been "engaging with the market" for batteries and motors as "this is one way to share our vision with these partners".
Heart had collaborated with Italy's Phase Motion Control on its motors and Forslund says "we would like to continue working with them". However, he stresses no selection has been made, with the company seeking to "make a very informed decision" which will be taken "as soon as possible".
Fellow Swedish company Saab has also been recruited to the programme, both as a supplier and an investor in the Heart, paying $5 million for an undisclosed minority stake.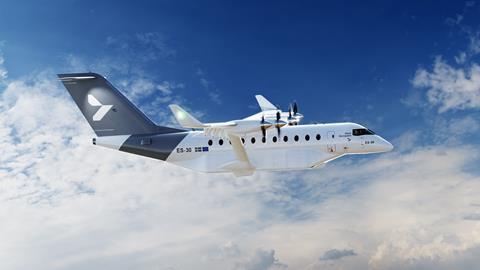 Sofia Graflund, Heart's chief operating officer, says the pair have entered into a "partnership agreement" that will see them working together in several areas. This could see Saab, for example, providing consultancy services, advising Heart on its manufacturing set-up or other aspects of the production or certification process.
The pact will also see the pair "collaborate on certain subsystems", says Graflund, without providing details.
For its part, Saab says it "wants to be part of the sustainable future of aviation" and will offer its "expertise" to the programme. "But we are not going into details on what we are going to provide them," it adds.
"We partly know the areas but we don't want to disclose exactly."
As a result of the design changes, service entry has been pushed back from 2026 to 2028 and the list price of the ES-30 has also increased over that for the ES-19. "It is obviously more expensive but it is better evolved," adds Forslund.
He points out that the design of the ES-30 will also allow for the development of stretched variant in the future.
"The ES-30 will also form the baseline for a product family and a platform that we can extend the fuselage to up to 50 passengers," he says. Some "adjustments" to the wing are likely to be needed for a 50-seater, he adds.
However, Forslund offers no timeline for the development of larger variant; Heart's efforts are currently focused on the ES-30, he points out.

Dominic Perry is deputy editor of Flight International but also contributes extensively to flightglobal.com. Although specialising in the coverage of the helicopter industry, he has written on most topics in aerospace – be they commercial, defence or business aviation. In addition, there has been an increasing focus on the decarbonisation of the industry and zero-emission flight initiatives.