Honda Aircraft aims for its in-development HondaJet Echelon to be certified as a variant of its existing HA-420 HondaJet, and for both models to share a common pilot type rating.
Executives revealed those and other details about Echelon in recent days in Las Vegas, where the NBAA business aviation trade show happened this week. They say the 10-passenger Echelon will help Honda Aircraft establish a beachhead in the light-jet segment while nipping at the heals of the midsize market.
The company, which currently only produces a very-light jet – the HA-420 – also says it received letters of intent covering more than 350 potential Echelon orders.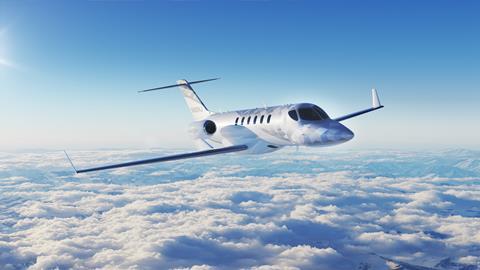 "This is not just another light jet. This is a milestone in our product line and a critical path for our future growth," chief executive Hideto Yamasaki says.
Honda Aircraft in November 2021 revealed the Echelon concept – then called the "2600" – and in June committed to the programme, marking its entry into the light-jet segment.
The company's Echelon certification strategy is now in view. Executives say they hope to certificate the jet – designated the HA-480 – under an amended type certificate, which would essentially make it an HA-420 variant.
An amended certificate has "been filed with the regulatory authorities", says Honda Aircraft assistant vice-president of product planning Adam Gagnon.
Most aircraft makers take the amended-type path when, for instance, certifying stretched derivatives of baseline models. But Echelon is not a simple HA-420 stretch. It will be a "clean-sheet" aircraft, the company says, with different engines – Williams International FJ44-4C turbines – and a new carbon-fibre fuselage made by a Spirit AeroSystems. (GKN Aerospace produces the HA-420's fuselage.)
Differences aside, Echelon will be like the HA-420 in ways mattering to regulators, having similar cockpits, shared Garmin G3000 avionic and identical pilot procedures for addressing emergencies and other non-normal events, says Honda Aircraft chief commercial officer Amod Kelkar. "The handling characteristics are designed to be the same – the same feel and the same performance. When an input is put in, you get a similar output."
Echelon will likewise have over-wing-mounted engines and the jets will have similar aerodynamics, metallic wings and carbon-fibre fuselages. Honda Aircraft must still convince the FAA that shared approvals are justified, but Gagnon remains confident.
"We have indications from the FAA, that even with the change… an amended type certification is an acceptable path forward," he says. "We feel very confident in a common [pilot] type rating."
Honda Aircraft plans to begin assembling the first Echelon flight-test vehicle in 2025 and to fly it before end-2026, kicking off two years of flight tests followed by a six-month certification campaign. It aims for the Federal Aviation Administration to certificate Echelon in 2028 but says that milestone could slip into 2029, and will produce Echelon in Greensboro, where it makes HA-420s.
UP-MARKET SHIFT
Honda Aircraft executives describe Echelon as straddling market segments, having the size and single-pilot capability of light jets and the range – advertised at 2,625nm (4,862km) with five people aboard – of some midsize jets.
Stepping up from the very-light segment opens Honda Aircraft to significantly more sales opportunities.
HA-420 buyers tend to be individuals, many of whom are pilots (called owner-operators). But light and midsize jets attract sizeable orders from charter and fractional-aircraft ownership companies – a segment that is "really growing fast", Kelkar says. "We are now looking at not just the light-jet [market], but even comparing ourselves to midsize jets when it comes to range."
He does not specify sales expectations, nor has Honda Aircraft landed firm Echelon orders. Kelkar says Echelon's price remains unsettled because suppliers are wary of freezing financial terms amid ongoing supply chain troubles and market volatility. "Because we haven't solidified [the price], we are not taking any orders at the moment," Kelkar says.
Honda Aircraft faces formidable competition in the light-jet segment from Cessna Citation CJ3s, CJ4s, Embraer Phenom 300s and Pilatus PC-24s. The manufactures have continually updated those jets' cabins, engines and avionics.
How competing light jets stack up

| | Passengers | Maximum range | Maximum cruise | Maximum altitude | Maximum take-off weight | Engines | Avionics |
| --- | --- | --- | --- | --- | --- | --- | --- |
| Cessna Citation CJ3 Gen2 | 9 | 2,040nm | 416kt | 45,000ft | 13,870lb | FJ44-3A | Garmin G3000 |
| Cessna Citation CJ4 Gen2 | 10 | 2,165nm | 451kt | 45,000ft | 17,110lb | FJ44-4A | Collins Pro Line 21 |
| Embraer Phenom 300E | 10 | 2,010nm | 464kt | 45,000ft | 17,968lb | PW535s | Garmin G3000 |
| HondaJet Echelon | 10 | 2,625nm | 440kt | 47,000ft | 17,500lb | FJ44-4Cs | Garmin G3000 |
| Pilatus PC-24 | 11 | 2,040nm | 440kt | 45,000ft | 18,740lb | JF44-4A | Honeywell Primus Epic |
But Kelkar says updates only go so far and that a fresh design gives Echelon an edge, adding, "I think we have a better score".
Echelon will measure 17.4m (57ft) long and 4.9m high at its tail, with a 17.1m wingspan. Its cabin will be 11.4cm (4.5in) higher, 14cm wider at shoulder level and 18cm wider at floor level than the HA-420's cabin. Cockpit safety features will include auto-braking, runway overrun alerting, auto throttle, emergency auto-land and steering augmentation.
Echelon's range will allow for cross-country US flights but Kelkar doubts many customers will push their jets that far. Typically flights will be up to 3.5h in duration and include popular routes such as those from New York to Florida, Texas or the Caribbean.
OFF-THE-SHELF POWER
Honda Aircraft insists Echelon will be 20% more fuel-efficient than other light jets, but not thanks to its engines.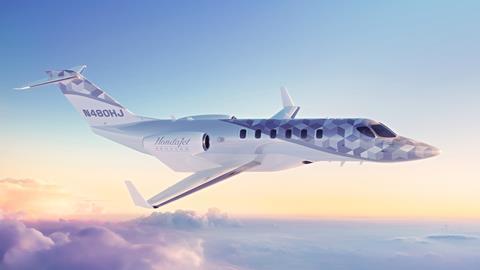 Amid the current pressure to cut carbon emissions, the company might be expected to seek a clean-sheet engine for its clean-sheet aircraft, potentially developing a new powerplant in-house under GE Honda Aero Engines – the joint business producing the HA-420 HondaJet's 2,000lb (8.9kN)-thrust HF-120 turbines.
But no clean-sheet engines will be available in time for Echelon, and time and cost kept Honda Aero from taking the project, Kelkar says. Scaling up the HF-120 to meet Echelon's needs – meaning nearly doubling its thrust – also proved impractical.
For those reasons, Honda Aircraft took the off-the-shelf route, tapping Williams International to supply 3,600lb-thrust FJ44-4Cs for Echelon. Other FJ44 variants power CJ3s, CJ4s and PC-24s.
So from where will all that promised efficiency come?
Kelkar points to Echelon's over-wing-engine configuration, which the company says reduces shock waves and turbulence created by air moving across a wing, thereby reducing drag. Kelkar also says Echelon will be alone in its class with a carbon-fibre fuselage, making it lighter, and that Honda Aircraft designed Echelon to maximise "laminar" (or smooth) flow of air around its structures.
Those same features make HA-420s 12-18% more efficient than other very-light jets, Kelkar adds. "Confidence comes from existing performance… If we are adopting the same three principles… [the] same should carry forward."