The release by Airbus and Boeing of full-year 2020 order and delivery figures has brought into stark view just how significantly the Covid-19 pandemic has stricken the world's two largest airframers.
Combined, the companies delivered 723 jets during the year, down a staggering 42% from 2019. And while the 737 Max grounding contributed to much of the decline, the figures leave little doubt the extent to which the pandemic walloped aerospace manufacturers.
Consider incoming aircraft orders.
Airbus landed 383 of those in 2020. But, backing out the 115 jets that customers cancelled last year leaves the Toulouse airframer with only 268 "net" new orders in 2020 – 65% fewer than received one year earlier.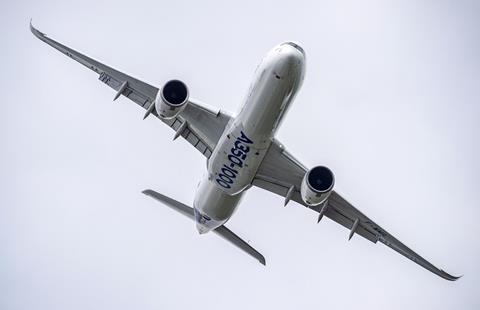 Boeing's 2020 order activity actually slipped deep into negative territory.
The Chicago company took new orders for 184 jets in 2020. But subtract from that figure 655 orders that were cancelled or converted to other types in 2020, and another 555 jets that Boeing transferred into a special accounting bucket. Called "ASC 606", that bucket includes orders that Boeing suspects will not close due to factors including the financial condition of the customers.
With those changes, Boeing actually lost 1,026 orders last year.
That vast majority of Boeing's cancellations and accounting adjustments last year were for orders of 737 Max, a type that had been grounded for 20 months ending in November 2020. Analysts suspect some 737 Max customers took advantage of clauses in purchase contracts that permit penalty-free cancellations of deliveries that are more than one year delayed.
Airbus's 2020 net orders inch higher, Boeing's tumble
Airbus
2020 net orders
A220
30
A320 family
263
A330
-14
A350
-11
A380
0
Airbus total
268
Boeing
737
-1,034
747
-4
767
11
777
-1
787
2
Boeing total
-1,026
Souce: Airbus and Boeing
* Net orders include new orders minus cancellations and,
in Boeing's case, minus accounting adjustments
Deliveries tumbled alongside orders, leaving both companies to cut staff.
Boeing delivered only 157 jets in 2020, down 59% year-on-year. As would be expected, the 737 Max contributed handily to the decline.
But so too did Boeing's top selling widebody, the 787. Boeing handed over just 53 787s in 2020, down from 158 in 2019, the company's data shows. It delivered no 787s in November of December 2020 – this, from a programme that was handing over about 14 of the jets monthly in 2019.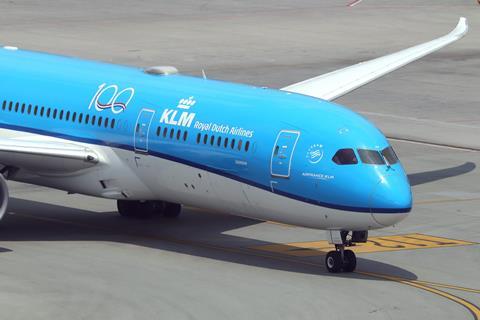 Again, Covid-19's impact cannot be overstated; the pandemic has particularly shattered demand for international travel. But deliveries have also been slowed because Boeing is performing seemingly detailed inspections of new 787s following discovery in 2020 of fuselage issues.
Boeing has said little except to describe the problem as a "skin flatness issue" at "areas of the fuselage join".
However, a 12 January research report from financial company Jefferies says "the inspections are focused on certain components and the condition where construction and clamping does not align with the specific thresholds required".
"The issues have related to the aircraft's rear stabiliser, with two separate quality defects in the rear fuselage," it adds.
The 2020 activity left Boeing's backlog at 4,223 aircraft, down 22% from 5,406 jets at the end of 2019, the company's data shows.
Combined, Airbus and Boeing deliveries sink 41% in 2020
Type
2020 deliveries
2019 deliveries
Percent change
A220
38
48
-21%
A320 family
446
642
-31%
A330
19
53
-64%
A350
59
112
-47%
A380
4
8
-50%
Airbus deliveries
566
863
-34%
737
43
127
-66%
747
5
7
-29%
767
30
43
-30%
777
26
45
-42%
787
53
158
-66%
Boeing deliveries
157
380
-59%
Total Deliveries, Boeing and Airbus
723
1,243
-42%
Source: Airbus and Boeing
Airbus' deliveries have also slowed, though not as dramatically. It delivered 566 jets in 2020, down 34% from 2019. Deliveries of all Airbus models slipped, even A220, a programme that Airbus had been ramping up before the pandemic struck.
Airbus' backlog included 7,184 jets at the end of 2020 (including 5,885 A320-family jets), down just 4% in one year.
As deliveries slowed in 2020, Airbus and Boeing have both accumulated stockpiles of undelivered jets – equating to untold millions of un-captured revenue.
According to Cirium fleets data, Airbus is now sitting on 62 aircraft that have completed first flight but not been delivered, which makes them what Cirium head of consultancy Rob Morris considers "undelivered inventory".
Boeing's undelivered inventory stands at 470 aircraft, though 401 of those are 737 Max. Another 65 are undelivered 787s, up from 60 in the middle of December.