NASA has left no doubt that it wants to help make next-generation narrowbody jets significantly more efficient.
That goal became clear in May, when the agency revealed its Sustainable Flight National Partnership (SFNP), a technology development effort aimed at bringing 25% efficiency gains to single-aisle jets coming to market in the 2030s.
Under the SFNP, which encompasses several existing projects, NASA intends to develop and fly a demonstrator of a commercial airliner. It also plans to develop and demonstrate compact engine cores, hybrid-electric systems and advanced composite manufacturing methods.
"If we are successful, it puts technology into the design and trade space that [industry] can look at," says Richard Wahls, strategic technical advisor at NASA Aeronautics' Advanced Air Vehicles Program. "It doesn't mean that it automatically makes it onto an aircraft."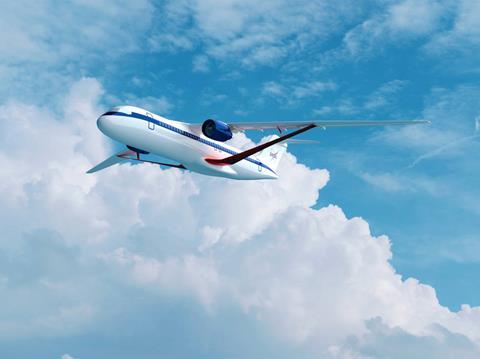 Launch of the project comes amid heightened pressure to cut emissions, and as the USA and Europe work to settle a long-running trade dispute involving allegations of subsidised aircraft development. Meanwhile, Boeing is working to recover from both the 737 Max grounding and the Covid-19 pandemic. More broadly, the US aerospace industry faces increasing threats from overseas competitors, notably those in China.
The SFNP will help "enable the next-generation single-aisle transport, expected by the early 2030s, to be a game-changing, ultra-efficient and low-carbon-emitting design at least 25% more fuel efficient than today," NASA says in its fiscal year 2022 budget request.
Analysts widely expect Boeing and Airbus will each bring to market a new narrowbody in the 2030s. That leaves NASA needing to move fast: new technologies likely need to be demonstrated by the mid- to late-2020s to be sufficiently mature for an aircraft to enter service next decade, Wahls says.
"NASA will ensure that the technologies will be ready by the mid-to-late 2020s to transition into US industry's next-generation single-aisle transport aircraft," documents say.
NASA's proposed SFNP funding is a fraction of what industry spends on research and development. But, being free of commercial pressures – though dependent on Congressional purse strings – allows the agency to advance technologies that industry might otherwise consider a bit too revolutionary for near-term applications. "NASA has pinpoint focus and can take bigger risks," Wahls says.
NEW X-PLANE
Under the SFNP, the "centrepiece will be a full-scale Sustainable Flight Demonstrator X-plane to validate integrated systems and their benefits," NASA says. The agency aims for the X-plane to make its first flight in FY2026, which starts in October 2025.
NASA intends to solicit proposals from industry to design and build the X-plane in its next fiscal year. As such, which companies will participate remains unknown.
Boeing says: "We are excited about the opportunity to be part of this Sustainable Flight National Partnership and look forward to working with US industry, research and academic collaborators on this important project for future transport aircraft technologies.
"We were pleased to see that the president's budget request included a 10.4% increase in the NASA Aeronautics account, and the prioritisation of critical subsonic aircraft technologies."
The X-plane's configuration is also undetermined. In recent years, NASA has studied various designs, including "double-bubble" fuselages, blended-wing bodies and truss-braced wings. Wahls calls the truss-braced design a "leading candidate" for the X-plane – one that could boost efficiency by 5-10%.
Trusses can support longer, more slender wings, meaning higher aspect ratios and "much higher levels of aerodynamic efficiency", says NASA. But trusses bring complexity. They have joints and differing load paths. Engineers must address powerplant-integration challenges and buffet and icing concerns.
The agency, which plans to perform truss-wing buffet tests next fiscal year, has long studied trusses. It previously partnered with Boeing to advance the concept via its Subsonic Ultra Green Aircraft Research programme. In 2019, Boeing revealed a conceptual Mach 0.8 truss-braced airliner featuring folding wings with a span of about 52m (170ft). By comparison, the wings of a Boeing 737 have a span of around 35m.
Initially at least, the X-plane will not demonstrate all the technologies being advanced by the SFNP. High-power-density turbofan cores, for example, will likely be insufficiently mature by the date of the X-plane's planned first flight, Wahls says. "There are multiple parallel paths that are demonstrating different technology… If you put too many miracles on a big demonstrator, the risk goes way up."
NASA says the project will benefit US competitiveness and help industry meet emission goals.
"SFNP is NASA's response to increasing challenges from international entities to the nation's long-term leadership in commercial aircraft manufacturing," it says. "This partnership aims to accomplish the aviation community's aggressive climate change agenda."
Pressure to curb emissions has never been greater. The US Congress is now evaluating an infrastructure bill that includes clean-energy initiatives, and lawmakers have proposed subsidising biofuel production. Meanwhile, the airline industry is working to slash emissions by 2050 to half of 2005 levels. How the sector might achieve that goal remains unclear.
Aerospace analyst Michel Merluzeau with consultancy AIR views NASA's efforts at least partly "about preparing Boeing to be competitive… for the next-generation of commercial airplanes". Boeing's 737 replacement might look nothing like the X-plane but could incorporate some technologies matured under the SFNP, Merluzeau adds.
NASA launches the SFNP against the backdrop of an US-EU trade dispute that finally seems to be heading for resolution.
For years, governments have hurled allegations, via the in the World Trade Organization, that each unfairly subsidised aircraft development.
But on 15 June, the sides seemed to reach a detente when they agreed to a "co-operative framework". Under that deal, they committed to support their respective aerospace industries "on market terms" and to "make the results of fully government funded R&D widely available".
ELECTRIFICATION, PROPULSION
Much of the SFNP's focus will be on propulsion. As part of the programme, NASA plans to award contracts to demonstrate "1MW-class electric power-train systems" for single-aisle jet hybrid-electric powerplants, documents say. The agency aims to begin flight testing such powertrain systems in FY2024 or FY2025, Wahls says. The effort is related to NASA's Electrified Powertrain Flight Demonstration programme.
The SFNP also encompasses NASA's Hybrid Thermally Efficient Core effort to develop smaller, more-efficient and more-powerful engine cores, from which up to 20% of power can be extracted for conversion to electricity. Smaller cores can mean greater bypass ratios (meaning more efficiency), and extra electricity can be used to convert pneumatic and hydraulic systems into lighter electric systems – a trend already under way.
Longer term, engineers hope to use electricity to "hybridise propulsion", meaning to store electricity in batteries and use that electricity to help drive a fan, supplementing power from jet fuel, Wahls says. "The step change is if you can bring battery storage… into the propulsion system itself."
But smaller cores require different architectures and new, high-temperature-capable materials, which NASA is studying, Wahls says. The agency hopes to perform small-core ground demonstrations in FY2026.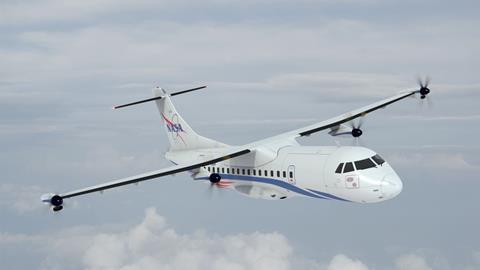 Small-core engines could be 5-10% more efficient, and increased electrification could deliver another 3-5% efficiency gain, says Wahls.
Hartford-based engine maker Pratt & Whitney "has been participating in programme elements" of the SFNP, it tells FlightGlobal. The company is "working across the industry in public-private partnership to shape" the programme and develop "technology for the next generation of sustainable aviation".
P&W does not provide specifics. But in May, executives stressed that P&W is focused on improving and making more efficient the geared-turbofan architecture found in its PW1000G-series engines. Those power Airbus A220s and A320neo-family jets, and Embraer's E-Jet E2 range. P&W and parent Raytheon Technologies are also studying smaller cores, composites and hybrid-electric technologies, including 1MW electric motors, executives said.
GE Aviation is "evaluating the activities under" the SFNP, the Ohio engine maker says. GE and partner Safran own CFM International, which makes Leap powerplants for the 737 Max and A320neo.
"We're encouraged by increased funding focused on a more-sustainable future for the aviation industry," GE says. It is advancing "next-generation propulsion needs that incorporate revolutionary technologies".
On 14 June, CFM launched a technology programme called RISE with the goal of making the next narrowbody aircraft engine – one entering service in the mid-2030s – 20% more efficient. RISE involves development of an open rotor demonstrator and will mature over 300 technologies.
COMPOSITES FOR NARROWBODIES
Under the SFNP, NASA will also demonstrate new methods of carbonfibre production, continuing work already started under its Hi-Rate Composite Aircraft Manufacturing programme.
Widebodies like 787s and A350s already have composite fuselages. But those jets are produced at rates nowhere close to narrowbody output. At the 787's production zenith in 2019, Boeing manufactured 14 monthly. That same year, Airbus produced about nine A350s each month.
By comparison, Airbus produced nearly 54 A320s per month in 2019, while Boeing's 737 rate hit 52 jets per month in 2018. At the time, both airframers were planning further rate jumps.
Therein lines the composite challenge for narrowbodies – production rates, Wahls says.
Composites are more complex than metals. They require autoclaving and frequent inspections, and take longer to work with. Bonding methods are different. So are repairs and certification, Wahls says. The industry is still learning about composites. Indeed, problems with 787 fuselages led Boeing to halt deliveries of that jet twice in the last year.
Therefore, NASA intends to demonstrate technologies that will enable composite airframe structures to be produced four to six times faster. "The project focus will be airframe structural components for single-aisle transport aircraft," it says.
"That's really the Rosetta Stone of future narrowbody production – is to get those composite rates to" 60 or 70 units monthly, says consultant Merluzeau.
Other work under the SNFP includes studying alternative fuels and bringing better efficiency to air traffic management.
FUNDING
NASA's recently released FY2022 budget proposal calls for $915 million for its Aeronautics division. That figure equates to less than 4% of NASA's total $24.8 billion proposed FY2022 budget but is 10% more than Aeronautics received this fiscal year. The budget remains dependent on Congressional approval.
Of the $915 million, NASA has earmarked $546 million for the two programmes that will execute the SFNP. The Integrated Aviation Systems Program would get $302 million to fund development of the Sustainable Flight Demonstrator and to support first flights of two other NASA X-planes: the X-59 low-boom supersonic demonstrator and X-57 Maxwell all-electric aircraft.
The agency's Advanced Air Vehicles Program would get $244 million to "support advanced engine technology development, composite structures for high-rate manufacturing [and] advanced transonic truss-braced wing testing", budget documents say.
By comparison, Boeing alone spent $1.4 billion on commercial aircraft research and development in 2020, down amid the pandemic from nearly $2 billion in 2019.
"In terms of numbers, its not really a needle-mover," Teal Group aerospace analyst Richard Aboulafia says of NASA's aeronautics funding. Still, "you never know where it might help… It encourages people who are aiming to develop new technology."