Boeing's ever-versatile 747, the last of which was delivered to Atlas Air during a ceremony today, continues to fill a range of niche applications for military and other operators, even including its use as a satellite launch platform.
The US Air Force (USAF) continues to operate six adapted 747-200s: four E-4B airborne command post aircraft and a pair of VC-25A presidential transports, colloquially known as "Air Force One". The latter will remain in service until a pair of replacement 747-8Is enter use: the aircraft are currently in modification with Boeing Defense, Space & Security.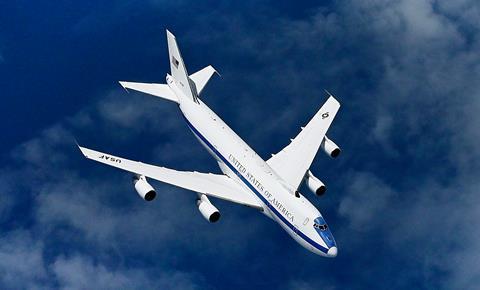 Previously, the USAF also trialled the use of a heavily adapted -400F freighter in the Airborne Laser role; a capability intended to destroy ballistic missiles during their boost phase. The lone example produced was retired to desert storage after a programme of flight-tests of the directed energy weapon conducted in tandem with the US Missile Defense Agency.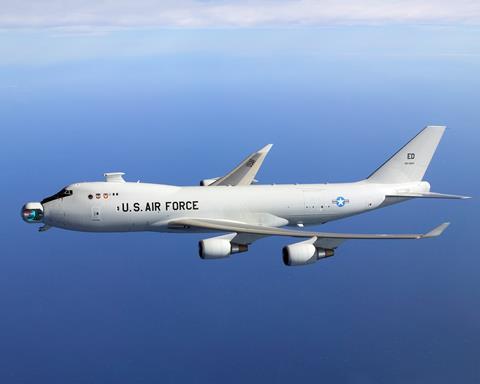 Iran's air force uniquely operates a trio of -200s modified for use as in-flight refuelling tankers, plus the only six -100 transports still flying.
Boeing, meanwhile, calls on its own fleet of "Dreamlifters" – adapted outsize examples of the -400F employed during the transport of major structures for the 787 widebody. Four of the Large Cargo Freighter models are in use, operated for the airframer by Atlas Air.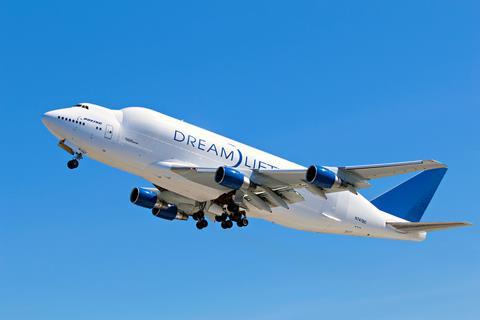 The 747 has also proven its versatility as a flying testbed for engine manufacturers: Pratt & Whitney Canada has two SPs, and Rolls-Royce a single -400 assigned to support such work.
NASA, meanwhile, last year ended operations with its SOFIA platform – an SP specially adapted to carry a powerful telescope for stratospheric observation. The administration also previously employed a modified jumbo to transport the Space Shuttle, which was carried above the aircraft's fuselage.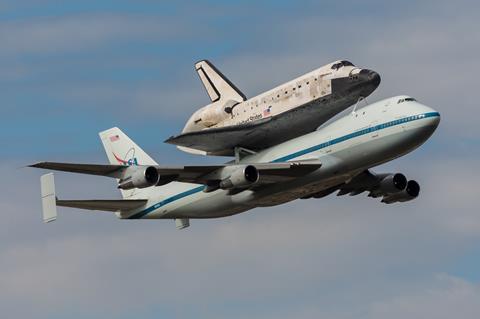 Also looking to space, Virgin Orbit was in the headlines early this year when it deployed its ex-Virgin Atlantic -400 "Cosmic Girl" to Spaceport Cornwall in the UK, to deploy small satellites via its LauncherOne rocket. The first such attempt from UK soil ended in failure, however, when the rocket's second phase booster malfunctioned, resulting in the loss of its payload.
The former airliner carries the 21.3m (70ft)-long LauncherOne rocket by using the 747's fifth engine hardpoint; installed inboard on the port wing, this was originally designed to enable operators to deliver a spare engine.
Moving into the realm of fiction, the 747 also has played a supporting role in multiple films throughout its operating life.
A uniquely-configured -200 – with two sets of Boeing B-52 bomber-style paired engines mounted on its inboard pylons, and extended-range fuel tanks carried outboard – appeared in the 2006 James Bond film Casino Royale.
But for those of a certain age, the most memorable appearance was without doubt the use of a 747-100 in Die Hard 2. During a pivotal scene, detective John McClane brings down the aircraft (a barely disguised Evergreen International example) – which is being used by his escaping adversaries – by igniting a trail of aviation fuel which has gushed onto a snow-covered runway, using a cigarette lighter.
Other notable movie credits have included appearances in Air Force One; Austin Powers: International Man of Mystery; and, most recently, the spy thriller Tenet.

Craig Hoyle joined Flight International in 2003, and has edited the now monthly title since 2015. He has reported on the UK, European and international military aviation sector for more than 25 years, and produces our annual World Air Forces directory.
View full Profile