Ryanair's massive commitment for the 737 Max 10 pushed Boeing's total new orders in September to 224 aircraft, while the airframer also made progress ramping up the pace of 787 deliveries.
However, shipments of 737s slowed last month amid continuing manufacturing quality problems.
Ryanair in May signalled its intention to order 150 of the largest Max variant, with the deal formally approved by shareholders at the airline's AGM in September.
The 737 Max 10 is not yet certificated but Boeing aims to hit the milestone in 2024.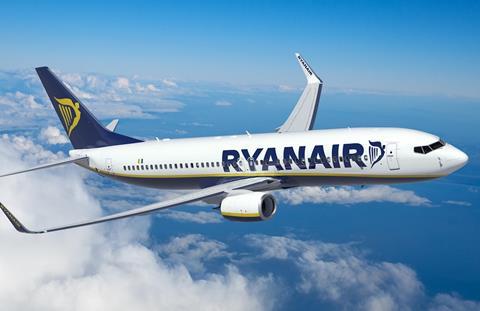 Boeing also maintained strong widebody sales momentum, bringing in gross orders for a total of 72 787s: United Airlines will take 50 787-9s; Air Canada will take 18 787-10s and an unnamed customer or customers will receive another six 787s.
But the airframer lost 10 orders to cancellations: undisclosed customers cancelled orders for three 737 Max, LATAM Airlines Group axed four 787s and one 777 Freighter, and Air Canada scrubbed two 777Fs.
Boeing's September deliveries came to 27 aircraft, including only 15 737 Max. Those went to customers including Air India, Air Tanzania, Alaska Airlines, Southwest Airlines, United and lessors Air Lease and Dubai Aerospace Enterprise.
Boeing had aimed this year to produce an average of at least 31 737s each month, and while it does not disclose monthly production rates, its 737 delivery rates have slowed significantly since it revealed needing to inspect some 165 737 Max to address a potential defect involving aft-pressure bulkhead drill holes.
The company has stuck to its goal of delivering 400-450 737s this year, and had shipped 286 of the jets by the end of September.
Boeing did manage to significantly hike its 787 delivery rate, handing over 10 of the jets in September to carriers including All Nippon Airways, LATAM, Saudia, Singapore Airlines, Qatar Airways, Vistara and the government of Iraq.
It has been seeking to ramp 787 deliveries following a spate of quality problems that forced the company to halt deliveries of the type through much of 2021 and 2022.
Rounding out the September deliveries, Boeing shipped one 777F each to DHL and Silk Way West Airlines.
Including accounting adjustments that padded Boeing's orderbook with 14 additional aircraft, the company ended September with 5,172 jets in its backlog, up from 4,971 at the end of August.
The backlog includes 4,031 737s, of which 4,012 are 737 Max and 19 are 737NGs largely for military applications, 104 767s – 60 of which are for the KC-46 tanker programme – 371 777s and 666 787s.