Boeing's top product developer doubts hydrogen-powered airliners will be viable in the near future due to technical and regulatory hurdles and remaining technological uncertainty.
The company's commercial vice-president and general manager of product development Michael Sinnett expressed doubts about the near-term prospects for hydrogen aircraft on 22 September – the day after competitor Airbus revealed three conceptual hydrogen-powered aircraft.
Airbus says the state of technology could allow its "ZEROe" aircraft concepts to enter service within 15 years.
Speaking to reporters on 22 September, Boeing's Sinnett describes hydrogen power as having "unique promise". He made his comments while also discussing Boeing's ecoDemonstrator programme, which recently partnered with Etihad Airways to test noise-reducing and efficiency-boosting technologies using a 787.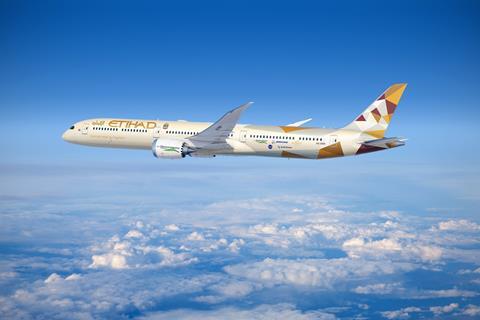 But, Sinnett says, hydrogen-fuel production and storage challenges will take significant time to work through. Additionally, for hydrogen propulsion to become reality soon, government regulators must work at a pace matching technological development – also no sure bet.
"I don't think it's something that's right around the corner," Sinnett says.
The aerospace industry, over many decades, has come to a thorough understanding of the kerosene fuel that powers today's turbofans, including how to safely store and transport that fuel, Sinnett sayly
Likewise, the industry understands how kerosene-burning turbofans operate in all variety of conditions.
The same cannot be said of hydrogen power, Sinnett says.
"We have to ensure there [is] no back-peddling on those levels of safety," Sinnett says. "That means, there is a lot to learn" about hydrogen propulsion.
Industry visionaries have talked of hydrogen propulsion for decades, and some manufacturers have tested hydrogen propulsion.
In recent weeks, the concept gained attention when Paul Eremenko, formerly a top Airbus and United Technologies executive, announced he formed a new company called Universal Hydrogen, which seeks to develop a hydrogen-fuel supply and storage network.
On 21 September, Airbus threw its weight behind hydrogen-powered aircraft by unveiling its three ZEROe airliner concepts.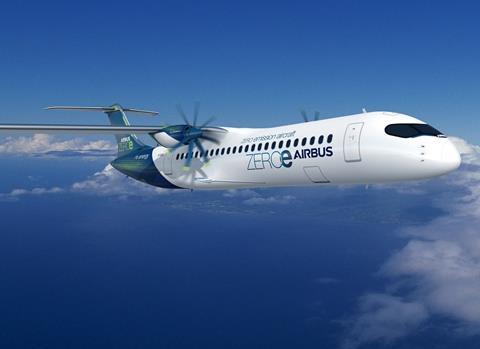 Airbus head of zero-emission aircraft Glen Llewellyn said battery technology has not advanced at rates necessary for near-term development of large aircraft powered by battery systems.
He said Airbus has shifted its focus to hydrogen, which could allow the industry to meet aggressive carbon-reduction goals.
Airbus's hydrogen-powered concepts include a 2,000nm (3,700km)-range blended wing-body aircraft capable of carrying 200 passengers, a more-conventional-looking airliner powered by hydrogen-burning gas turbines and a 100-seat regional aircraft with hydrogen-fuel gas turbines.
Such aircraft could possibly enter service by 2035, says Airbus.