Shareholders of British Airways and Iberia parent IAG have approved the company's plan to purchase 50 Boeing 737 Max, including the high-capacity Max 8-200 and the as yet uncertificated Max 10.
Boeing disclosed the agreement on 27 October, which includes options to purchase a further 100 737 Max aircraft.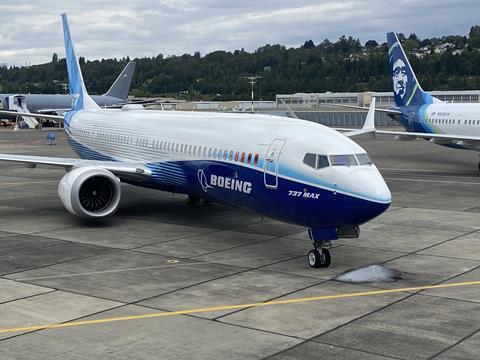 "We welcome today's decision by IAG's shareholders to approve a firm order for 50 737-8-200s and 737-10s, with options for 100 more, and we look forward to working with IAG on reintroducing the 737 in to the group's fleets," says Boeing head of commercial sales and marketing Ihssane Mounir.
The approval follows IAG's disclosure in May that it and Boeing had agreed to the terms of the 50-aircraft deal. At the time, the airline company said it intended to acquire 25 Max 8-200s and 25 Max 10s between 2023 and 2027. IAG said any of its airline companies – which include Aer Lingus, British Airways, Iberia, Level and Vueling – could use the jets for "fleet replacement" purposes.
But IAG's plan to purchases the Max stretches back the Paris air show in June 2019, when it signed a letter of intent to purchase up to 200 of the narrowbodies.
That agreement came at the Max programme's nadir: the jet had been grounded earlier that year following two crashes, and Boeing was struggling to find new customers.
The Max 8-200 is a high-capacity Max 8 variant that can carry up to 200 passengers thanks to changes that include the addition of an extra pair of exit doors. Max 8-200 customers include Ryanair and US discounter Allegiant Air.
The Max 10 is the largest member of the narrowbody family, with capacity for up to 230 passengers in a single-class layout. However, the Federal Aviation Administration has not yet certified the jet, and its future remains uncertain due to an end-of-year US requirement that new passenger aircraft have a modern cockpit warning system.
Boeing has said it may seek an exemption for the Max 10, which lacks such a system. It expects to deliver the first Max 10 in 2023.
Earlier today, IAG also ratified a deal with Airbus for 37 A320neo-family jets.