Icon Aircraft's A5 had a rough start in life, with two high-profile accidents dominating headlines in 2017, just as the company was rolling out its first airframes to the public. But despite the two tragedies which took the lives of two company engineers and a former professional baseball player – both attributed to pilot error - the sleek amphibious light sport aircraft turned heads wherever it went.
Six years on, the US start-up is thriving and its baby is ready for international prime time.
It has delivered almost 200 of the type and is now on the verge of having its "sportscar with wings" certificated by the US Federal Aviation Administration as a primary category aircraft – a goal it has been pursuing for the better part of three years.
And with that certification comes a window to the world.
"We expect that 25-30% of our sales volume will come from outside of the US," Icon chief executive Jerry Meyer told FlightGlobal last week at EAA AirVenture in Oshkosh.
The airplane is currently categorised in the USA as a light sport aircraft, "and some countries, including Canada, for example, don't have the LSA category", he says.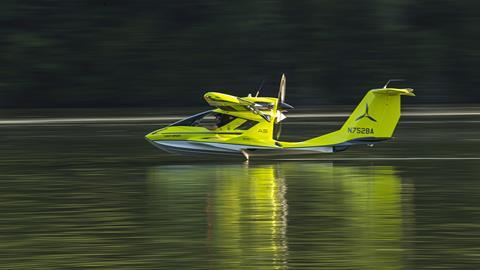 The FAA defines a light sport as a single-engine aircraft with a maximum airspeed of 120kt (216km/h). It must have no more than two seats, and for aircraft intended for operation in water, a 650kg (1,430lb) maximum takeoff weight (MTOW). The landing gear is fixed or retractable, or for an aircraft intended for operation on water, a hull.
The Icon A5 checks all those boxes except the weight restriction. The aircraft's MTOW is 685kg, and the company has secured a weight waiver from the FAA. Other regulators do not offer such an option.
But having the A5 fully certified in the FAA's primary category – expected by the end of this year – will make certification in other jurisdictions easier.
"It's all taken a little bit longer than I think we wanted it to, but the FAA is sort of backed up on its projects," Meyer says, adding that the company already has a backlog of international orders for the A5.
He has found partners in South Korea and Japan, and is expecting the first aircraft to be delivered to those markets later this year.
CHICKEN OR EGG?
"It's like a chicken-or-egg situation," says Meyer. "Is the distributor going to commit capital to put deposits down and buy airplanes before certification", or does certification come first?
The company also has "a number of partners" waiting in South America, Australia, New Zealand, Canada and in Europe. Sales to that region are "high on the priority list".
"We've vetted people, we've had conversations, neither of us have signed on the dotted line yet, but we're pretty close," he says. "We are waiting for type certification so that they're able to make the investments that they want to make at the right time."
Once the FAA has given its blessing, Meyer expects other regulators to follow suit quickly.
"I don't expect it to happen instantly, but it will be a lot faster," he says. "Having a certified airplane makes it easy. It's essentially a validation of the certificate rather than a whole new certification process for that particular regulator."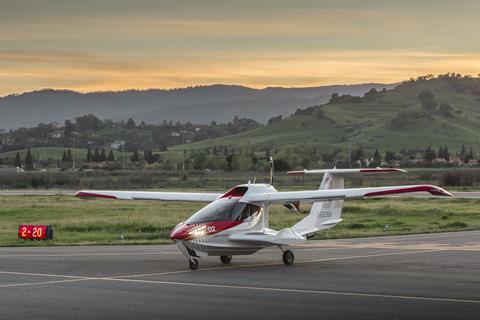 The company, which was founded in 2006, has so far delivered 191 aircraft, with its primary production facility in Tijuana, Mexico manufacturing between four and five airframes per month.
"We assemble 85% of the plane there, and then we ship it up to Vacaville, just south of Sacramento," for final assembly. The company's headquarters are in Vacaville, as well as its research and development, a training centre and a service centre.
Meyer says the company will likely remain at that production rate through the next year.
"I don't want to crank out airplanes that are unsold," he says.
"Being able to pick your own options is a pretty important part of the buying experience for our customers. The plane takes about three months to build. And so that's sort of the sweet spot."
Icon brought two examples of the A5 to Oshkosh in order to offer customers demonstration flights on a nearby lake, and the opportunities were booked solid for five full days. For customers who committed to purchasing an aircraft at the show, the company had spared eight production slots in the coming months. That means they would be able to get their aircraft before the next normally available delivery slot of March 2024.
By 3 August Icon had finalised seven orders and is "expecting a few more to trickle in". Last year, the company sold 12 airframes directly related to the Oshkosh show.
SAFETY FOCUS
Icon has worked hard to address safety after the 2017 crashes and a handful of other incidents throughout the past half-decade. The aircraft's safety features include a spin-resistant cuffed wing and a full parachute system as well as an angle of attack indicator, in order to make it easy to keep the aircraft in a stable state.
The A5's cockpit is simple and intuitive, with few dials and gauges, with a Garmin G3X Touch avionics system and some switches in the centre console – mimicking the feeling of sitting in a high-performance car. A large clear canopy gives pilot and passengers the impression of simply sitting in the sky. It handles smoothly and an experienced pilot without a seaplane rating can quickly learn how to land the craft in water.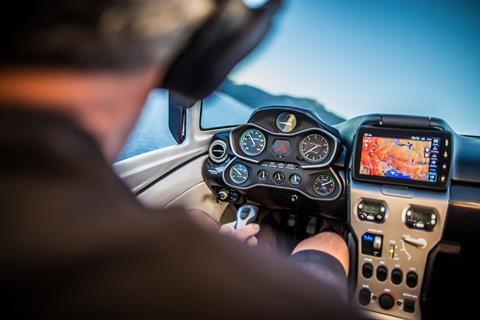 A Rotax 100hp (75kW) engine that takes either 91-octane automotive fuel or traditional 100 low-lead aviation fuel powers the craft, and has a burn rate of around four gallons per hour at an average cruise speed of about 85kt. That gives the A5 about 420nm (756km) of range.
The airframe is made of lightweight carbon fibre with a retractable undercarriage. The wings fold up and the tail construction can be disassembled so that the entire aircraft fits in a custom-made trailer that can be parked in a garage or driveway.
Icon recently introduced a new lightweight four-blade propellor that saves eight pounds on the aircraft's total weight and has 10% better take-off performance.
"That increases the safety margin when trying to get in or out of a smaller body of water," Meyer adds.
BUILT TO HAVE FUN
Icon markets the craft as a lifestyle product built for having fun rather than a tool to be used for commuting purposes, as a Cirrus or a Cessna might be. During the coronavirus pandemic, the company saw an uptick in queries but not for the same reasons as other private aircraft manufacturers did.
"We did see increased interest, but it wasn't because [potential customers] couldn't fly commercial, it was because they had time," Meyer says. "Our plane is not purely for transportation, it's really meant more for recreation."
"Having been able to spend more time at, for example, a lake house [during lockdowns], some people thought, 'Wouldn't it be great not to have to sit in three hours of traffic, but instead hop on this and be there in 45 minutes,'" he says.

Pilar Wolfsteller, Americas Air Transport Editor, is an FAA-certified flight instructor (CFI), and holds a commercial pilot certificate with instrument rating. She joined FlightGlobal in 2019, and is based in Las Vegas. She covers airlines across the hemisphere and her interests also include future-oriented sustainable aviation technology, advanced air mobility projects and pilot training topics. Pilar began her journalism career at the global news agencies Bloomberg and Reuters, and has reported from more than 50 countries.
View full Profile