Attorneys for the former Boeing pilot indicted on charges related to certification of the 737 Max have asked a federal judge to delay a scheduled November trial, citing the need to review 67 million pages of "discovery" documents.
Separately, the US government failed to convince the judge that discovery materials should be prohibited from public release.
On 22 October, attorneys for former Boeing chief technical pilot Mark Forkner asked US district judge Reed O'Connor to delay the trial, scheduled for 15 November.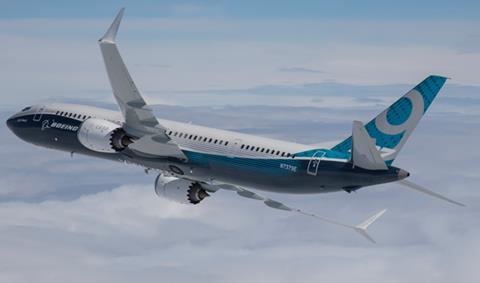 The US Department of Justice indicted Forkner on fraud charges on 14 October. The government alleges that he deceived the Federal Aviation Administration about the 737 Max's flight control system during the FAA's evaluation and certification of the jet. He also defrauded Boeing's customers, says the DOJ.
That flight control system – the Manoeuvring Characteristics Augmentation System – was found to be a factor in two crashes that killed 346 people.
Forkner has pleaded not guilty in US District Court for the Northern District of Texas.
With the 15 November trial date fast approaching, Forkner's attorneys say they have far too little time to prepare.
As part of the "discovery" phase of the trial, the US government sent Forkner's legal team "eight separate hard drives containing at least 15.4 million records, totaling 67.2 million pages", according to court papers.
"The records come from various sources, including Boeing, the FAA, the Department of Transportation Office of Inspector General, several airline companies, airline unions, an airline 'simulator' maker, banks, phone companies and over two dozen other individuals", papers say.
Just loading the documents into database will take "a week or more". Then, Forkner's team must review the documents. "Even if defence counsel reviewed 100,000 pages a day (which would not be possible), it would take 672 days," attorneys say.
Citing the complex nature of the case and documents, Forkner's team asked the judge to schedule a meeting after April 2022, at which time a trial date can be determined.
The US government wants the trial to be no later than 15 February 2022, court papers say.
Judge O'Connor has not yet responded.
Separately, on 19 October, the US government asked O'Connor to issue an order prohibiting Forkner's legal team from disclosing discovery materials to anyone not assisting with Forkner's defence.
"Discovery in this case contains sensitive, proprietary and confidential financial and business information", release of which "could create a substantial risk of harm" to parties not named in the suit, government lawyers argued.
O'Conner shot down the request on 20 October.
"Public confidence [in our judicial system] cannot long be maintained where important judicial decisions are made behind closed doors and then announced in conclusive terms to the public, with the record supporting the court's decision sealed from public view," O'Connor's writes, citing a previous case.
He notes that the parties can, without a court order, agree amongst themselves to keep materials private. They can also appeal to the court to keep specific documents under seal.
Neither Forkner's nor US attorneys responded to requests for comment.