Japan Airlines Innovation Fund, the venture arm of the Japanese carrier, has invested in start-up sea-glider developer Regent Craft.
The companies on 26 January disclosed the funding, with the US firm saying it is its largest overseas investment to date. Regent did not disclose the investment amount but the company says it has raised over $40 million to develop its craft.
"This is a really big step for us to have Japan Airlines on board," Regent chief executive Billy Thalheimer tells FlightGlobal. "We're seeing aviation companies lean in [to] this space where… some people initially had doubts [if] maybe a maritime-based vehicle would even be interesting to consider for an airline."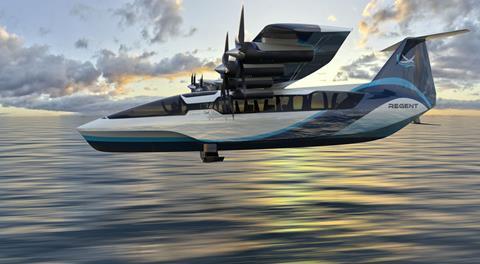 But numerous air transport companies have come around. "We're seeing this growing use case for certified maritime-based vehicles from aviation authorities and aviation operators," Thalheimer says. Airlines are beginning to think about how to get customers from door to door, he says, not just from airport to airport.
"We're starting to see a shift into this true multi-modal thinking," he adds. "That's a really exciting space for Regent to be playing in, and really exciting that we're starting to see the market traction and validation with Japan Airlines."
Yasushi Noda, executive officer and senior vice-president of digital innovation at Japan Airlines, adds: "We believe sea gliders are a safe, sustainable and economical solution, and we are excited to work with Regent to assess demand not only in Japan but around the world."
Thalheimer says JAL has not yet committed to purchase any sea gliders, but Regent will use the airline's support to conduct "deep dives on things like economic case studies, viability, safety of the platform, training on the platform".
"This fund is in place to really look for the next big thing for JAL, and to look for potential new lines of business."
The Rhode Island-based start-up now has about 40 full-time employees working on the all-electric wing-in-ground-effect vehicle, which it intends to certificate as a maritime craft.
The craft is designed to fly within one wingspan above the water, taking advantage of aerodynamic and operational efficiencies. The craft's "sweet spot", however, is one-quarter to one-half its wingspan above the sea, enabling increased payload capability and greater range than other electric aircraft concepts currently in development.
Ground-effect is lift generated while a vehicle flies close to the surface of the earth, forcing air through the narrow space between the aircraft and the ground, and reducing aerodynamic drag.
Regent's sub-scale prototype achieved an important milestone in mid-2022 on its journey to become a viable transport option. The company's demonstrator, a one-quarter-scale model of a production aircraft it plans to call "Viceroy", successfully transitioned from floating, to travelling as a hydrofoil ferry, and then to flight during tests in Narragansett Bay off the coast of Rhode Island.
The sub-scale prototype has a wingspan of 5.48m (18ft); Viceroy's wingspan will be about 18.3-19.8m. That means the craft will probably travel 9m above the water.
Regent says it has amassed more than 400 "provisional and firm orders" for its future zero-emissions craft, worth $7.5 billion. Of those, "a two-digit number" – around a year's output – are firm orders. It has already announced partnerships with Hawaii's Mokulele Airlines, Southern Airways Express and regional airline Mesa Air Group, which last year committed to purchase 200 aircraft.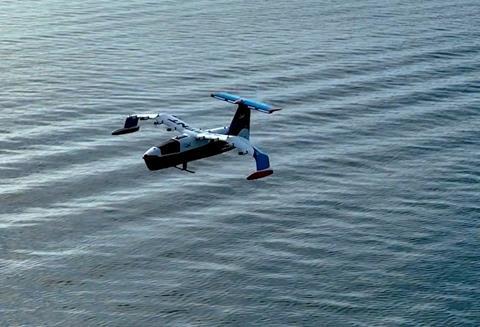 Regent is also exploring collaborations with the military, Thalheimer adds. Last November, the company formed a Defense Advisory Board to explore military applications and use cases. Board members are former leaders of the United States Marine Corps and the United States Coast Guard.
"We've seen a growing interest from national security and defence [organisations] for a vehicle with these capabilities – high speed, potentially low signature, very low operating costs, very easy to operate," Thalheimer says.
The company is working on a full-scale prototype of Viceroy, which is designed to carry up to 12 passengers and two crew. It is scheduled to begin sea trials in 2024 and to fly later that year. Regent aims to have Viceroy in revenue service in 2025.
Initially, the sea glider will have a top speed of 162kt (300km/h) and a 162nm (300km) range, though Regent has said that improving battery technology could eventually enable its vehicles to have more than 400nm of range.
Last May, Regent announced it was working on a second, larger craft called "Monarch". That vehicle will carry up to 100 people and is planned to enter service by 2028.
Regent's investors include Thiel Capital, Y Combinator, Founders Fund and entrepreneur Mark Cuban. Hawaiian Airlines also decided last May to "strategically invest" in the firm.