US electric air taxi developer Joby Aviation is teaming up with ANA Holdings, the parent of Japan's All Nippon Airways, and Toyota Motor Corporation to create an aerial ridesharing service in Japan.
The companies say on 14 February that the three-way partnership will collaborate on all aspects of a transportation network in the Asian country, including "development of infrastructure, pilot training, flight operations, air traffic management, public acceptance, and the regulatory requirements to operate".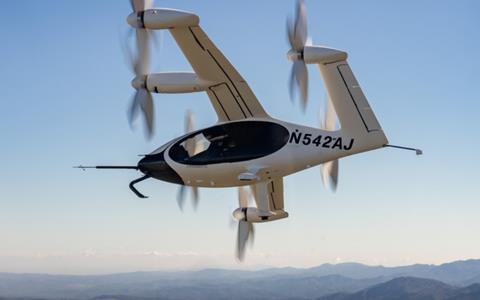 "Joby exists to help people save time while reducing their carbon footprint," says JoeBen Bevirt, founder and chief executive of Joby. "Japan offers us a spectacular opportunity to do just that with 92% of the population living in urban areas and Tokyo registering as one of the top 20 most congested cities in the world."
The Silicon Valley-based company is developing an all electric vertical take-off and landing (eVTOL) aircraft with five seats that is planned to have a maximum range of 133nm (241km) on a single charge and travel at a top speed of 178kt (321 km/h). That would enable passengers to make the 27nm journey between central Osaka and the Kansai International airport in a matter of minutes rather than one hour or more by car, Joby says.
"ANA has 70 years of experience delivering safe and reliable flights to customers across the world," says Koji Shibata, executive vice-president of ANA Holdings. "Our customers value efficiency very highly, so being able to provide them with the option to travel rapidly - and sustainably - from an international airport to a downtown location is very appealing."
Japan is looking to streamline transportation networks ahead of the 2025 World Expo, due to be held in Osaka, one of the country's most populous cities.
The aerial ridesharing service will be operated directly by the company, but the collaboration with two iconic Japanese brands "reflects Joby's strategy to partner with local companies committed to delivering exceptional customer service and operational excellence to launch its service in select markets outside the US", Joby says.
Toyota, which has already invested $400 million in Joby, and remains its biggest outside investor, has been working with the eVTOL company since 2019. It joined the partnership "with the intention of exploring opportunities such as ground-based transportation".
Last week, Joby began conformity testing of the composite material destined to be used to manufacture its eVTOL aircraft.
The move marked the start of the implementation phase of Joby's type certification programme, and it hopes to gain approval from the Federal Aviation Administration in 2024, enabling the launch of commercial operations the same year. It has also applied for a Part 135 air carrier certificate from the US regulator, which it expects to be granted this year.