Electric air taxi developer Joby Aviation and air taxi terminal designer Skyports Infrastructure have partnered to study and demonstrate how such a terminal would actually work.
The companies are developing what they call a "Living Lab passenger terminal" – a move coming as Joby works to certificate its in-development electric vertical take-off and landing (eVTOL) aircraft, the firms say on 6 October.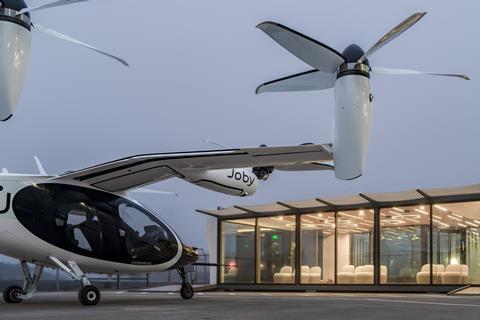 The Living Lab "will enable the two companies to test a variety of technologies and procedures that will help define how passengers experience vertical flight", they say.
Joby, based in Santa Cruz, California, aims for its air taxi to be in service in 2024. Skyports, which has offices in London, has also partnered on air-taxi operations projects with other eVTOL developers, including Wisk Aero and Eve.
Air taxi ground terminals are also called "vertiports".
"To realise the vision of everyday flight, we need to deliver a seamless and more-rapid experience on the ground," says Joby head of product Eric Allison. "The Living Lab will allow us to rethink the terminal experience."
Skyports chief executive Duncan Walker says the companies will use the lab to demonstrate their vision to regulators, government officials and the public.
Joby and Skyports will display the "Living Lab… at locations through the US" during the next year-and-a-half.
They revealed the lab ahead of a 13 October event hosted by Joby, during which it plans to showcase its facilities in Marina, California to investors and project partners. At the event, Joby will show "what future skyports might look like" and provide a tour of its envisioned "eVTOL aircraft manufacturing line".
Joby's flight-test team and pre-production prototype aircraft are based at the Marina site.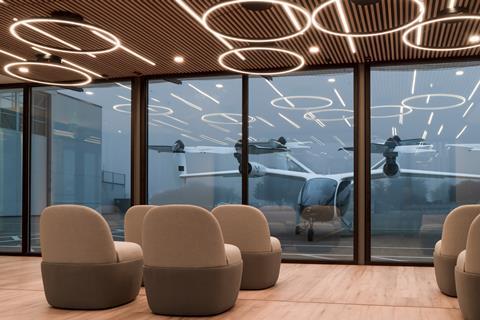 Joby is developing a single-pilot electric air taxi capable of carrying four passengers on flights up to 130nm (241km) and at speeds up to 174kt (322km/h). Joby views the aircraft as suited for shuttling passengers on flights over congested cities.
Its test aircraft has six tilting propellers – four mounted from its wings and two mounted from its tail.