California air taxi developer Joby Aviation is set to deliver on 25 September an electric vertical take-off and landing (eVTOL) aircraft to the US Air Force (USAF), which plans to evaluate the type's suitability for military missions.
Joby intends eventually to deliver up to nine of its aircraft to the USAF as part of a contract worth up to $131 million under the service's Agility Prime programme.
The company on 25 September said the "official" delivery to the USAF will occur today but that the aircraft arrived at Edwards AFB last week.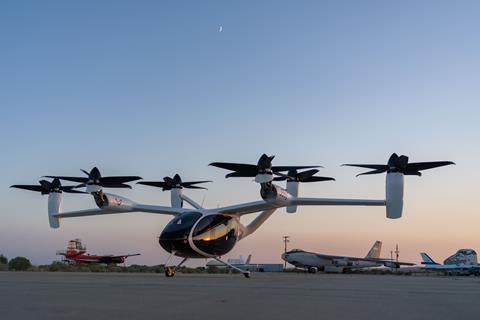 Joby says the milestone is well ahead of its previous plan to hand over the first two aircraft to the USAF in 2024. The Santa Cruz, California-based company plans next year to deliver the second eVTOL to the service. It is also pursuing Federal Aviation Administration certification for a four-passenger air-taxi variant of its design.
"On-base operations with Joby aircraft will be used to demonstrate a range of logistics missions, including cargo and passenger transportation, and will be operated by both Joby and US Air Force personnel," Joby said on 25 September. "In partnership with the US Air Force, NASA will also use the aircraft for research focused on how these aircraft could fit into the national airspace, benefiting the entire air taxi industry."
Joby says its eVTOL aircraft is the first to be stationed at a US military base and "is believed to be the first delivery of an electric air taxi in the US". It expects the aircraft will be stationed at Edwards for at least one year.
"The US Air Force and Joby will conduct joint flight testing and operations to demonstrate the aircraft's capabilities in realistic mission settings," Joby says. "On-base operations will also include the training of air force pilots and aircraft maintenance crews, which will provide the [Department of Defense] with valuable insight into the performance of eVTOL aircraft and will give Joby on-the-ground operational and training experience."
The work falls under the USAF's Agility Prime programme, an effort by the service to support development of and study potential uses for eVTOL aircraft.
Joby says the civilian variant of its aircraft will be capable of carrying four passengers on trips as far as 87nm (161km) and at speeds of up to 174kt (322 km/h).
It aims to have its aircraft certificated by the Federal Aviation Administration in time to begin commercial flights in the USA in 2025.
Joby and other air taxi developers still face significant hurdles in achieving their goal of launching passenger flights. Challenges include potentially tricky certification and pilot-training regulations and uncertain public acceptance. The broader business case of carrying passengers on short flights using small electric aircraft also remains unproven.