Air taxi developer Joby Aviation has unveiled the first production prototype aircraft, built at its production facility in Marina, California.
The aircraft – anticipated to be the first electric vertical take-off and landing vehicle (eVTOL) to be delivered to a customer – will undergo testing before being shipped to the US Air Force (USAF), Joby said on 28 June.
It will be delivered to Edwards Air Force Base in 2024 as part of the company's $131 million contract with the USAF's Agility Prime programme.
"Today's achievement is the culmination of years of investment in our processes and technology and it marks a major step on our journey to scaled production," JoeBen Bevirt, the company's founder and chief executive, says.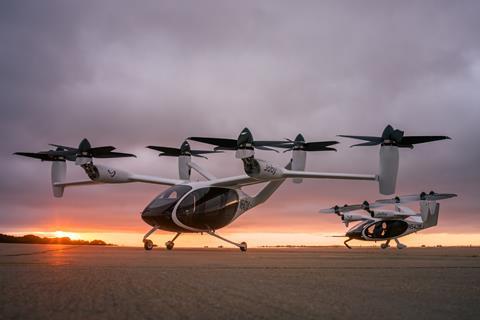 Joby also said on 28 June that the Federal Aviation Administration has granted the aircraft a special airworthiness certificate, meaning Joby has clearance to begin flight testing the prototype.
The company also says Tetsuo Ogawa, president and chief executive of Toyota Motor North America, will join its board of directors from 1 July.
"Toyota's role in Joby's manufacturing has been significant, and the two companies have worked together on a range of projects, from the design of engineering tools to the layout of Joby's production facility, with Toyota and Joby engineers working side-by-side," the company says.
"We congratulate Joby on reaching this milestone and look forward to working ever-more closely as Joby prepares to scale production and start operations," Ogawa adds.
Toyota is Joby's largest external shareholder, having invested approximately $400 million in the company. The two companies also recently signed a long-term agreement for powertrain and actuation components.
The Joby craft is slated to carry four passengers and a pilot, have maximum payload capacity of 454kg (1,000lb) and range of 87nm (160km).