A US federal judge has sided with Boeing in a dispute with the UK division of cargo airline Volga-Dnepr, striking down the airline's request that Boeing be barred from selling four cargo jets to other customers.
Judge Ricardo Martinez of US District Court for the Western District of Washington ruled that Volga-Dnepr UK's breach of sales contracts left Boeing open to resell the aircraft.
"Boeing… was under no contractual obligation to continue performing" its obligations under its contracts with Volga-Dnepr, the judge's 2 June order says. "Customer remains in breach of both purchase agreements."
The case involves one 747-8 Freighter (registration VQ-BIO) and three 777F that Volga-Dnepr had ordered in recent years and that were scheduled for delivery in 2020.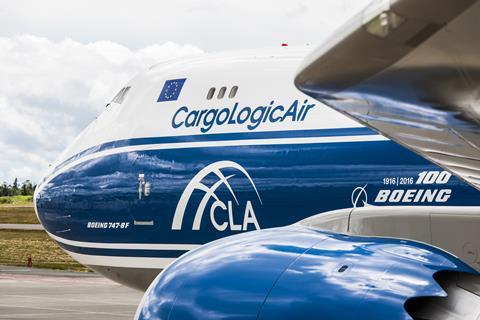 Boeing was to deliver the 747-8F to Volga-Dnepr on 29 February, and deliver the 777Fs in the first half of 2020, according to court papers.
But as coronavirus struck, Volga Dnepr notified Boeing it was unable to take the aircraft due to financial difficulties, citing "force majeure factors", the papers show. The carrier said coronavirus "decimated" its business, and the airline did not show for the 29 February 747-8F delivery.
Boeing responded by saying it would attempt to resell the four aircraft, filings show.
But in a twist, Volga-Dnepr's financial situation improved. As the year progressed, "demand for air freight soared" and the carrier secured financing needed to acquire the 747-8F.
In April and May, Volga-Dnepr wrote Boeing, retracting its previous notices, confirming "readiness to accept delivery of the Boeing 747-8F" and expressing its intention to take the three 777Fs.
But Boeing had already resold the aircraft; one other customer signed an agreement to purchase the 747-8 and another customer agree to buy the 777Fs, papers show.
In response, on 27 May Volga-Dnepr asked the court to ban Boeing from selling the aircraft to other customers, arguing it had retracted the previous notices – those saying it did not intend to take the aircraft.
Judge Martinez has now denied that request.
Volga-Dnepr UK's attorney declined to comment about the case to FlightGlobal, deferring comment to the airline. The carrier could not immediately be reached by FlightGlobal. Volga-Dnepr Group of Companies owns AirBridgeCargo, which operates its 747-8Fs, Cirium fleets data shows.
Boeing declines to comment "on pending litigation" but says "Volga-Dnepr is a valued customer with 27 Boeing airplanes in their fleet".
"We work very closely with all of our customers to fully understand their requirements and develop flexible solutions to support them," Boeing says.