US lawmakers have asked the Department of Transportation's top inspector to evaluate whether the Federal Aviation Administration is able to adequately identify production issues affecting Boeing 787s.
The request comes in a letter dated 18 November to DOT inspector general Eric Soskin from top members of the US House of Representatives' Committee on Transportation and Infrastructure.
"We are writing to request that the Department of Transportation's Office of Inspector General conduct a review of the FAA's oversight of the manufacture and production of the Boeing 787," says the letter.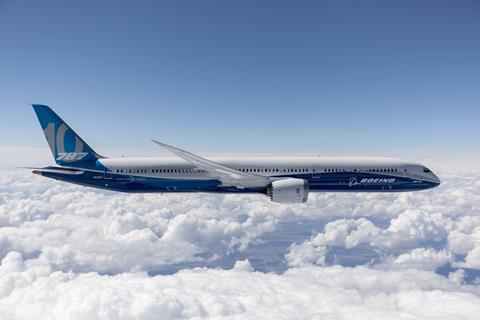 The DOT's Inspector General has also been reviewing the FAA's oversight of the 737 Max's certification.
"We request that your office… evaluate whether the FAA's existing inspection programme is sufficient to identify production issues" involving the 787, the letter adds.
It is signed by two Democrats, including committee chair Peter DeFazio, and two Republicans.
The DOT Inspector General's office declines to comment, telling FlightGlobal it has "not yet formally received" the committee's letter. Neither Boeing nor the FAA responded to requests for comment.
The letter specifically asks inspector general Soskin to investigate "whether FAA has enough inspectors, whether FAA performs enough inspections and whether FAA has appropriate processes in place to identify production issues".
It also asks Soskin to "review and evaluate the effectiveness of the FAA's actions to resolve 787 production issues".
The move comes months into a pause by Boeing of 787 deliveries due to production problems, including those affecting the jets' composite fuselages. Boeing halted 787 deliveries from October 2020 to March, saying "skin flatness" on undelivered jets did not meet precise tolerances.
The company then halted deliveries again in May after the FAA requested more information before approving a Boeing-proposed algorithm. That algorithm was related to inspecting 787s for what the FAA called a "shimming" issue. Shims can be used to fill gaps between fuselage sections, the committee's letter says, citing media reports.
Other 787 production problems cropped up in recent years. In September 2020, Boeing said it discovered that some 787 horizontal stabiliser components had been "clamped together with greater force than specified".
The committee's letter also notes that this year the FAA required airlines inspect 787s for an issue related to decompression panels in bilge areas.
Also, in mid-October, news broke that Boeing had discovered that titanium parts provided by a sub-supplier (a supplier to Italian aerospace company Leonardo) did not meet specifications.