Leonardo remains confident that its ATR turboprop joint venture will recover to a "normal" level of annual deliveries in the future after it was revealed that it shipped just one aircraft in the first nine months of this year, but says it cannot forecast when that will be.
"Sooner or later we will go back to a normal number between 60 and 70 per year, but we don't know when," said Alessandro Profumo, Leonardo chief executive, speaking on a third-quarter results briefing yesterday.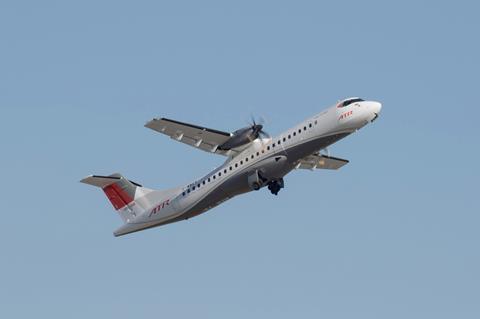 Leonardo's financial statement for the nine months ended 30 September shows there was just one ATR delivery in the period, against 29 a year earlier. Across the whole of 2019, ATR – in which Airbus is also a partner - handed over 68 aircraft.
Although Profumo cites a long-term requirement for around 700-800 aircraft in a segment where "there are no competitors", he says that most ATR customers are "small airlines" which have suffered significantly during the air transport crisis.
"A huge number of these airlines are no longer alive," he says, "and there are a huge number of used aircraft on the market."
Although the latest generation ATR 42-600 and 72-600 are more fuel efficient than their predecessors, that large second-hand inventory makes new aircraft sales more challenging.
"It is very difficult for us to say that next year will be x, y or z," says Profumo.
Alessandra Genco, Leonardo chief financial officer, says that although deliveries will improve in the final quarter of the year they will not rise significantly. "We are seeing a step up versus one unit delivered, that's taken for granted," she says.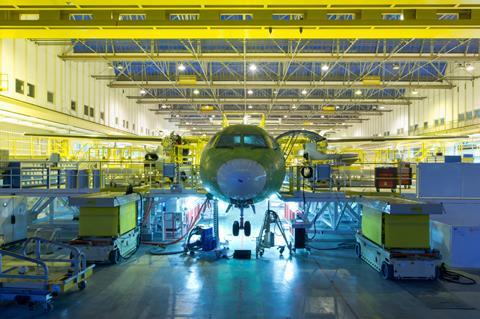 Leonardo shipped just 19 ATR fuselages in the first nine months of the year – an increase of just three units over the first half – compared with 51 in the same period in 2019.
While ATR sales contributed an EBITA of €4 million ($4.73 million) in the first nine months of 2019, that figure has collapsed by 1,650% so far this year to an EBITA loss of €62 million.
Revenue in Leonardo's aerostructures operation, where it is a major contributor to the Boeing 787 programme, also fell by 25%, to €630 million, down from €846 million in the same period a year earlier.
Leonardo made 90 deliveries of 787 centre fuselage sections, plus 58 horizontal stabilisers, during the period, against respective figures of 123 and 62 a year earlier.
EBITA losses in the segment worsened by 74%, to €47 million from €27 million a year earlier, despite a positive contribution from Airbus in relation to the early end of the A380 programme for which Leonardo was a supplier.
Profumo says that the company is attempting to reduce its reliance on Boeing for revenue and is working to secure a presence with its composite technology on other civil programmes and in non-aerospace applications.
"It is important since one of the main criticisms is that we are only a mono-customer [producer] and we are actively working not to be any more in this situation."