German electric air-taxi start-up Lilium will partner with airports in the Bavarian cities of Munich and Nuremberg to establish a regional air mobility network.
The Munich-headquartered company says on 19 April that the two hubs will enable it to offer air connections between different locations across southern Germany with its seven-seat electric vertical take-off and landing (eVTOL) aircraft.
The aircraft has a projected maximum range of 135nm (250km) and cruise speed of 156kt (280 km/h) with zero emissions. The first example is expected to be completed next year, the company says.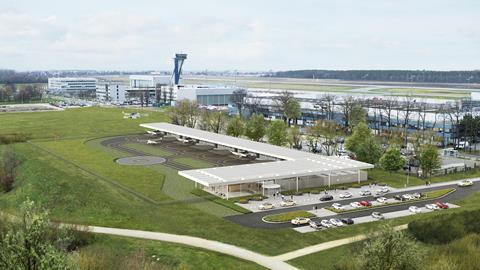 "We are doing everything we can to bring our all-electric and ultra-quiet airline service to our home base of Bavaria, as well as to link Munich and Nuremberg even more closely with neighbouring cities and regions," Daniel Wiegand, Lilium's chief executive, says.
"We also want to offer a service for everyone in the Southern German region, with attractive prices and great time savings for all travellers. Munich and Nuremberg airports are key mobility hubs that we will connect with large and small cities throughout the region over time," he adds.
Last year, the eVTOL company said it had agreed with Cologne/Bonn and Dusseldorf airports in northwest Germany to create necessary infrastructure to support regional air services in those cities.
In December, Lilium selected Lufthansa's training arm to develop a programme that will deliver a pipeline of qualified pilots for the new aircraft.
But the company's aspirations extend beyond its home country, as it continues to pursue certification in both Europe and the USA – probably the most-lucrative market for its services.
In January, the company said it partnered with Spanish infrastructure company Ferrovial to build "at least 10 vertiports" in what it calls "strategic locations" across the southern US state of Florida, including Orlando – home of Disney World and numerous other theme parks and entertainment venues.
In March, Lilium disclosed a plan to become a publicly-traded company via a reverse merger – a move intended to generate funds to launch commercial operations in 2024.
Featuring 36 tilting fans spread across two sets of wings – 12 at the front and 24 at the rear – the battery-powered Lilium Jet can take-of and land vertically, as well as operate like a regular fixed-wing aircraft.