Electrical vertical take-off and landing (eVTOL) aircraft developer Lillium has signed two agreements with Chinese entities that will support its sales and development in the Asia-Pacific region.
Shenzhen Eastern General Aviation Company (Heli-Eastern), a major low-altitude general aviation carrier and helicopter service provider in the Guangdong-Hong Kong-Macao Greater Bay Area in China, is planning on ordering 100 Lilium Jets, and will partner with the German company to identify sites and partners for vertiports.
In addition, Heli-Eastern will operate the aircraft in the region and provide crewing and maintenance services on the type's certification, the company says.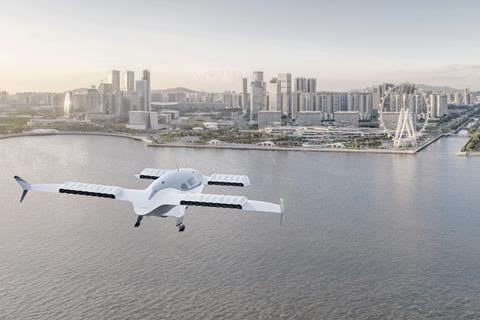 "We see significant potential for Lilium's eVTOL network in the Greater Bay Area, both to reach this important premium market, as well as to offer the sustainable, time-saving benefits of the Lilium Jet to as many people as possible," Klaus Roewe, Lilium chief executive, adds.
"By partnering with Lilium, we are bringing the future of sustainable air mobility to China," adds Zhao Qi, chairman of Heli-Eastern. "With Lilium's premium cabin design and innovative electric jet technology, our customers can travel throughout the Greater Bay Area and beyond quickly and sustainably."
In addition, Lilium has signed a memorandum of understanding with Bao'an District of Shenzhen municipality for the opening of a regional headquarters.
"The collaboration will initially focus on the Guangdong–Hong Kong-Macao Greater Bay Area, with a population of over 85 million people, with plans to grow across China and the broader Asia-Pacific region," Lilium says.
The unit will represent the company in Asia-Pacific, and facilitate jet sales, services and support.
"China represents an enormous opportunity for the eVTOL industry we believe, projecting to amount to as much as 25% of the market," Roewe adds. "We are thrilled to be entering China with such a strong partner."