Boeing intends eventually to ramp up 787 production to a pre-pandemic level of 14 jets monthly despite a decision to end production at one of two sites.
That is according to Boeing chief executive David Calhoun, who says on 3 June that Boeing has and continues to make production improvements at its North Charleston, South Carolina 787 manufacturing facility.
"We will get back to the rates that we used to be at," Calhoun says during an investor conference hosted by AllianceBernstein. "We will do it in one footprint… We can accommodate those kinds of rates."
In 2019, Boeing's two facilities (the other being the initial site in Everett, Washington) produced about 14 787s monthly.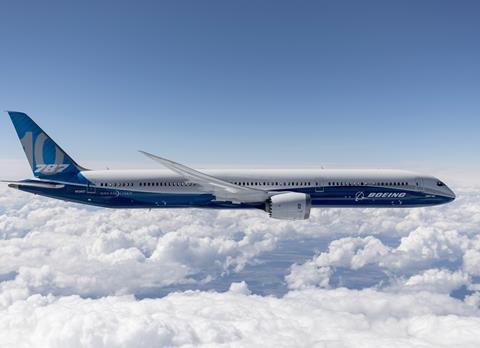 But during the pandemic – a period of dwindling demand for widebody jets that coincided with 737 Max-induced financial pressure – Boeing decided to shutter its 787 line in Everett and consolidate all that work in Charleston. The company completed the shift this year.
Asked to clarify that Boeing indeed intends to eventually resume the 14-monthly rate, Calhoun says, "Yes… You don't go from five to that number overnight. You get there in increments".
The company's 787 delivery rates slowed to a crawl in the last year, due partly to the pandemic but also to production-quality issued that led Boeing to halt 787 deliveries from October 2020 to March. Boeing stopped deliveries again this month.
It handed over 53 787s in 2020, equating to about four monthly, and delivered 11 of the jets in 2021 through April, according to its data.
Though deliveries remain paused, Calhoun says Boeing still anticipates delivering close to 100 787s in 2021.
He does not say when Boeing might hit the 14-rate.
One financial firm, Jefferies, predicts Boeing's will produce an average of five 787s monthly through 2023, with the rate increasing to an average of eight monthly in 2025.
Aerospace analyst Michel Merluzeau with consultancy AIR calls a goal of producing 14 787s monthly "excessively ambitious". Ten monthly is a more likely figure, he adds.
Boeing's 787 handover pause this month came after the Federal Aviation Administration requested data to back-up a Boeing-proposed algorithm related to addressing a fuselage "shimming" issue, the FAA said. Fuselage problems also forced the October-to-March 787 delivery break.
"The FAA rightfully wants to know more about the analytics and process controls that we put in place, which are different from the ones we had previously," Calhoun says. "They have questions about the approach that we took… Not objections, questions."
Working with the FAA, Boeing has been "altering some of our production control systems… in ways that are designed to make us more productive in the long term but [that] feel very unproductive short term", Calhoun says.
The company "took on a lot, because we thought it was in the best interest… for the long-term stability" of the Charleston site, he adds.