The chief executive of propulsion company Magnix has urged the US government to set ambitious electric-aircraft goals, while the head of Boom Supersonic has asked the government to throw weight behind sustainable fuel.
The appeals, made 27 April during an aviation committee hearing, comes as the US government weighs an infrastructure investment plan that includes various clean-energy provisions.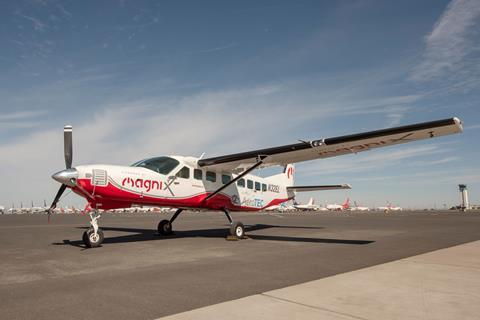 "Our president and Congress should set a bold and ambitious goal of having all-electric aircraft start to perform commercial flights up to 250 miles by the end of 2024, and up to 1,000 miles by 2030," Magnix CEO Roei Ganzarski tells lawmakers.
"I recommend more funding for the FAA to hire and train more people for electric aviation," he adds.
Blake Scholl, CEO of Boom, said government support could help make sustainable aviation fuel more-widely available and more affordable, and therefore encourage more aircraft owners to burn it.
"The supply chain for sustainable aviation fuel… needs to be scaled," Scholl says. "The technologies exist but they are not scaled up yet… This is where there's an opportunity for this committee and for Congress to provide some leadership."
Scholl mentions tax credits for sustainable fuel producers as one means of boosting production.
Ganzarski and Scholl spoke during a hearing of the US Committee on Transportation and Infrastructure's aviation panel.
Clean-energy technologies are central to President Joe Biden's $2 trillion infrastructure spending plan, details of which the White House disclosed in late March.
Though White House materials do not mention aviation-specific technologies, the proposal calls for investment in electric vehicles and biofuel.
US airlines have also been pushing for wider adoption of sustainable fuel. Trade group Airlines for America has been in contact with Biden's administration about sustainable fuel, according to a Reuters report.
In April, United Airlines launched a programme through which customers and corporate partners can invest in sustainable fuel. United aims to become carbon neutral by 20250, it says.
Magnix and Boom are developing next-generation aviation technologies.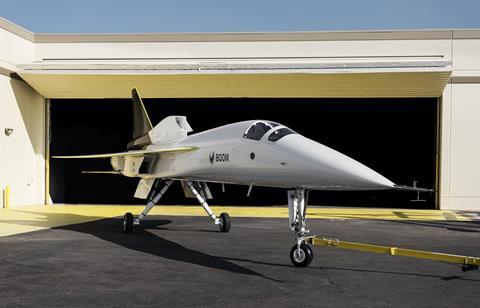 Magnix is working with Canadian airline Harbour Air to certificate a De Havilland Canada DHC-2 Beaver seaplane powered by Magnix's Magni500 electric propulsion system. Those companies have already equipped and flown the Beaver demonstrator.
Magnix also installed the Magni500 in a Cessna 208B, and flown that aircraft. It intends to provide systems for Eviation's all-electric Alice prototype, and for a hydrogen-powered Dash 8 being developed by Universal Hydrogen.
Magnix is "on a path" to achieve Federal Aviation Administration certification by 2022, Ganzarski tells lawmakers. "There's a real possibility that smaller electric aircraft can start flying people and packages on short routes within the next four years".
His comments follow a recently published NASA paper that said electric aircraft could transform US regional air travel.
Boom expects to fly a supersonic demonstrator called XB-1 either late this year or early next. That jet will help Boom evaluate technologies for use in Overture, an in-development supersonic passenger airliner.
Scholl says Overture will fly on "100%" sustainable fuel and be in service before the end of the decade.