Mitsubishi Aircraft's decision to suspend SpaceJet M100 development comes amid fresh questions about the future of "scope clauses" – those pilot contract provisions that dictate which aircraft US regional airlines can operate.
Found in contracts between major US airlines and their pilot unions, scope clauses generally prohibit those carriers' regional partners from operating aircraft with maximum take-off weights (MTOW) exceeding 86,000lb (39,000kg).
Until recently, market conditions suggested scope clauses would remain unchanged for years, in which case Mitsubishi Aircraft would need the lighter-weight 76-seat M100 for the US market.
But the downturn could conceivably give airline managers leverage needed to renegotiate scope clauses, say analysts.
If that happens, US regional carriers might be able to operate Mitsubishi Aircraft's M90, a higher-weight 88-seater already in flight testing. Such a development would also bode well for Embraer's E175-E2, which, like the M90, exceeds the 86,000lb cap.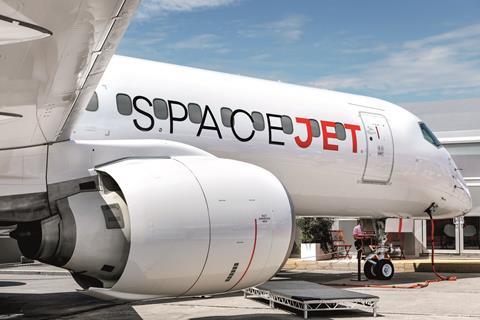 "In less than two months we are in a completely reversed situation, where it is the airline management in the driver's seat," says Michele Merluzeau of aerospace consultancy AIR. "Maybe Mitsubishi is better off seeing how this issue of scope clause evolves over time… because the M90 might be just fine in the future."
Ascend by Cirium's head of valuations George Dimitroff says scope clause changes are far from certain. But factors like a prolonged airline-industry downturn, bankruptcy filings and pilot lay-offs would make contract revisions more conceivable, he says. But Dimitroff doubts any changes would occur sooner than next year.
"I think [Mitsubishi Aircraft] may be having a bit of a strategy dilemma," Dimitroff says, "Everything is really hanging on the scope clauses."
American Airlines, Delta Air Lines and United Airlines have scope clauses written into their contracts with pilots. Pilot unions see the provisions as protections that keep airlines from farming out the flying of larger jets to lower-cost affiliates.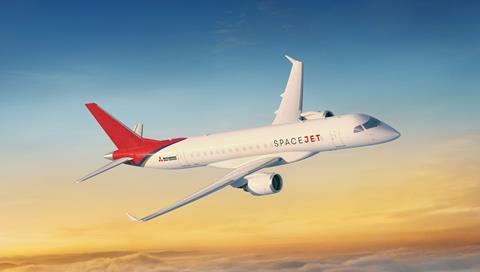 Mitsubishi Aircraft is already well into flight testing the M90. But at the 2019 Paris air show it launched the M100, an aircraft that, with an 86,000lb MTOW, would be tailored to the US market. Mitsubishi Aircraft had intended to begin M100 deliveries in 2024.
But on 22 May, Mitsubishi Aircraft said it was shelving M100 development and closing on non-Japan sites. The company is bringing all work back to Japan, where it intends to continue M90 flight testing. That testing had been underway both in Nagoya, Japan and in the USA, at Moses Lake, Washington.
That news came several weeks after parent Mitsubishi Heavy Industries (MHI) announced it was reviewing the M100 programme and cutting the SpaceJet's budget by half, to Y60 billion ($557 million) in fiscal year 2020. Mitsubishi Aircraft declines to comment about whether scope clauses influenced those decisions. Its most-recent projection was to deliver the first M90 in FY2021, which starts in April 2021, or later.
Analysts express confidence that Mitsubishi Aircraft will see the M90 through to certification. They feel the programme has cost too much and is too close to certification to be shuttered.
Dimitroff warns Mitsubishi Aircraft can only pause M100 development for so long. The SpaceJet programme is already years behind schedule and the M100 remains in early development stages. At some point, the M100's technology will become dated.
Other factors
Merluzeau suspects Mitsubishi Aircraft's decision to slow the SpaceJet reflects factors other than the scope clause. Those include the collapse of new-aircraft demand and the cheap price of fuel, which erodes the efficiency benefits of next-generation jets.
He also notes that the downturn will affect MHI's other aerospace businesses. The company manufactures major components for all of Boeing's commercial products.
Boeing has already responded to the downturn by planning major production cuts. It intends to slash 787 production from 14 to seven aircraft monthly by 2022, cut 777/777X output to three from five aircraft monthly in 2021 and produce only 31 737 Max in 2021, down from a pre-grounding rate of 52 aircraft monthly.
SpaceJet's struggles to gain traction in the USA also reflect the difficulty of penetrating the ultra-competitive, ultra-cost-conscious US regional aircraft market, Merluzeau adds. US regional airlines operate on "razor thin profits" and have long experience flying E175s and Bombardier CRJs, making them particularly cautious to bet on new aircraft types.
"I think the Covid crisis has accelerated the realisation in Japan that the… US market is going to be a tougher challenge," he says. "It's been a painful journey for Mitsubishi."