Mitsubishi Heavy Industries (MHI) intends to close its $550 million purchase of Bombardier's CRJ aircraft programme on 1 June.
The Japanese industrial company, parent of Mitsubishi Aircraft, confirms the pending closing date, quelling speculation that the deal might fall through amid the coronavirus pandemic.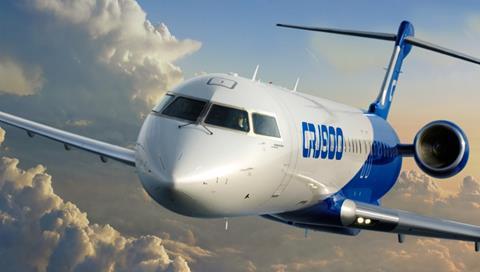 The companies "agreed that all closing conditions have been met and the transaction… will close on June 1, 2020," says MHI.
The deal calls for MHI to buy the CRJ's maintenance, support, refurbishment, marketing and sales activities, including support and service assets in Mirabel, Toronto, Bridgeport (West Virginia) and Tucson (Arizona).
MHI is not acquiring CRJ production, which the companies have said will conclude when Bombardier produces all remaining CRJs on order.
It still holds orders for 18 CRJ900s, according to Cirium fleets data.
Analysts have said the acquisition will give Mitsubishi Aircraft the global support network it needs to secure major sales.
In selling the CRJ, Bombardier will divest its only remaining commercial aircraft programme, leaving the company with its business aviation unit and train business.
After closing, a newly created Mitsubishi entity called MHI RJ Aviation Group will operate the CRJ programme.
That company "will provide a holistic servicing and support solution for the global aircraft industry, including the CRJ series aircraft, and eventually for the Mitsubishi SpaceJet family of next-generation regional jets," MHI says.
Story corrected on 7 May to note that MHI is purchasing the CRJ programme for $550 million, not $500 million.