Quebec's aerospace industry has partnered with the aerospace cluster in Japan's Aichi prefecture, home to Japanese aerospace company Mitsubishi Aircraft in the industrial city of Nagoya.
MHI RJ Aviation chief executive Hiroaki Yamamoto disclosed the partnership during the first day of the International Aerospace Innovation Forum, on 14 December.
He says that the aerospace clusters will, on 15 December, sign a memorandum of understanding to form the partnership.
Details have not been disclosed.
MHI is a subsidiary of Japan's Mitsubishi Heavy Industries (MHI), which also owns Nagoya-based Mitsubishi Aircraft, developer of the SpaceJet regional jet programme.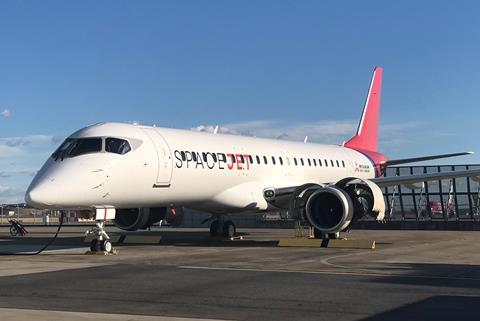 The virtual Innovation Forum is hosted by Quebec's aerospace trade group Aero Montreal.
"There are many parallels to be drawn between Aichi and Quebec," says Yamamoto, adding that both regions have "a strong manufacturing and technological capability".
"There is much that Aichi can learn from Montreal and its renowned aerospace manufacturers," he adds.
Aero Montreal did not respond immediately to questions about what the planned Aichi-Quebec agreement entails.
The group's agenda for the Innovation Forum includes a "joint announcement" on 15 December between it and the "Aichi-Nagoya industrial cluster".
Aerospace clusters in Quebec and Aichi are linked partly by MHI, which on 1 June acquired the CRJ programme from Bombardier. That programme sits under MHI RJ Aviation.