A commercial airliner flying at Mach 2 might seem a difficult financial and technical proposition in today's emissions-focused environment.
But NASA is now calling attention to a research project aimed at studying a passenger jet capable of flying much faster – up to four times the speed of sound.
The agency recently awarded contracts to two industrial development teams – one led by Boeing, the other by Northrop Grumman Aeronautical Systems – to develop "concept designs and technology roadmaps" for ultra-fast air travel, NASA says in a 22 August post on its website.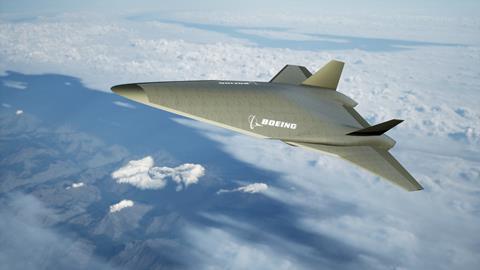 "The roadmaps will explore air travel possibilities, outline risks and challenges, and identify needed technologies to make Mach 2-plus travel a reality," the post says. "Each team will develop roadmap elements to include airframe, power, propulsion, thermal management and composite materials that can hold up under high supersonic speeds. They will also create non-proprietary designs for concept vehicles."
Boeing's team includes California start-up Exosonic, which has been designing a M1.8 airliner with 70 seats, the Aerospace Systems Design Laboratory at the Georgia Institute of Technology, and engine makers GE Aerospace and Rolls-Royce North America.
Northrop has teamed with Boom Supersonic, which is working to develop a M1.7 airliner called Overture, North Carolina acoustic engineering firm Blue Ridge Research & Consulting, and also R-R.
The contract awards fall under NASA's "High-Speed Endo-atmospheric Commercial Vehicle Conceptual Design Study and Technology Roadmaps Development" programme. NASA issued the awards earlier this year – contracts worth $2.6 million to Boeing and $2.5 million to Northrop, documents show.
The programme aims to "foster the pursuit of conceptual designs for high-speed… commercial transports that could enter service in the next decade or beyond".
NASA expects Boeing and Northrop to deliver details about "aircraft outer-mould-line geometry", "propulsion inner-mould-line geometry", power and thermal management assumptions, thrust and emissions figures and aerodynamic data, documents show.
The project is described by NASA as an "industry engagement" effort. Once complete, "NASA and its industry and academic partners will decide whether to continue the research with their own investments".
Northrop confirms its participation, saying it "is involved in conceptual design for NASA under this effort for sustainable high-speed aircraft". Neither Boeing, GE Aerospace nor R-R commented. In June, Boom confirmed its involvement, saying, "Initial technologies to be explored include mechanisms to increase aircraft efficiency and reduce emissions".
NASA says recently completed studies identified 50 transatlantic and transpacific routes that could be markets for ultra-fast airliners. The USA and other nations prohibit overland supersonic flight.
Separately, NASA has developed, in partnership with Lockheed Martin, a supersonic test aircraft called the X-59 Quiet Supersonic Technology demonstrator. NASA plans to use that jet to test designs elements intended to result in a quieter sonic boom. NASA is preparing for the X-59's first flight.
The agency, through its Advanced Air Vehicles Program, is broadly seeking to promote "sustainable" high-speed flight.
But sustainability could be difficult. In 2022, ICAO cited a study finding that supersonic passenger aircraft would use 7-9 times more fuel per passenger, per kilometre, than subsonic jets burning fossil fuel. The study was published by the International Council on Clean Transportation.