NASA has picked Boeing to develop a demonstrator of a truss-braced-wing narrowbody aircraft, part of a programme aimed at advancing technologies that could make the next single-aisle commercial aircraft 30% more efficient.
The agency will provide $425 million to fund of the project's expected $1.15 billion cost, with Boeing and its commercial partners contributing the balance of an expected $725 million, NASA said on 18 January.
NASA had previously revealed its intention to develop a narrowbody demonstrator but had not disclosed its project partner or the aircraft's design. Agency officials say their work could advance and prove out technologies that might be incorporated into a new single-aisle aircraft entering service in the 2030s.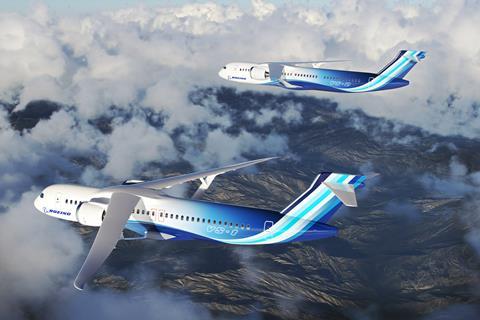 "NASA has selected Boeing as our partner in designing, building and flying a brand-new large-scale experimental airplane called the Sustainable Flight Demonstrator," says NASA administrator Bill Nelson. "Boeing's concept is a transonic truss-braced wing single-aisle aircraft, which is scheduled to fly in 2028."
NASA expects the demonstrator's flight-test programme will last about one year, with some flight testing happening from its Armstrong Flight Research Center in California.
Boeing chief technology officer Todd Citron says the partnership with help equip "future airplanes with breakthrough technologies". The truss-brace design's high-mounted wings "free up underwing space for advanced propulsion systems", he adds.
Boeing will develop the demonstrator using an airframe from an existing single-aisle aircraft, officials say. The manufacturer has not yet disclosed other project partners.
The airframer on 18 January released an image showing two truss-braced concepts, one labelled VS-1 and the other VS-2. The aircraft shown have long wings mounted atop their fuselages, supported by trusses and carrying apparent large-diameter turbofans.
"It's our plan to demonstrate this extra long, thin wing – stabilised by the braces – that will make commercial airliners much more fuel efficient by [reducing] drag," Nelson says. "Boeing's proposed design could make a significant contribution toward our goal of improving fuel efficiency by as much as 30%."
Long, slender wings have increased aspect ratios, providing more lift and improved aerodynamic efficiency. Trusses provide structure support such wings need.
But the designs add complexity. They have joints and differing load paths. Engineers must address buffet, icing and powerplant-integration challenges. The longer wings also create space challenges at airports.
Aerospace analyst Michel Merluzeau with consultancy AIR cautions that NASA's effort "does not mean in any way" that Boeing's next narrowbody jet will have a truss-braced wing.
"It's an avenue that is being explored," he says.
The demonstrator project falls under NASA's Sustainable Flight National Partnership (SFNP), a project revealed in 2021 that encompasses several previously existing technology efforts. Those include development of "compact" turbofan cores, hybrid-electric propulsion technologies and advanced composite manufacturing methods. NASA has said such technologies, combined with something like a truss-braced wing, can deliver the 30% efficiency improvement.
The demonstrator is the "largest, most-ambitious project under" SFNP, says Robert Pearce, associate administrator of NASA's Aeronautics Research Mission Directorate. "This is an experimental aircraft… This is high-risk technology."
NASA had previously aimed to fly its single-aisle demonstrator as soon as late 2025. The new timeline – with first flight pegged for 2028 – reflects a realistic review of the programme's complexity and budgeting, NASA says.
In soliciting partners to develop the demonstrator, NASA received "several excellent" proposals, though Nelson says Boeing's was "by far the best".
"NASA selected Boeing… based on their design concept… their plan [for] addressing key technology gaps and their potential commercialisation," he adds.
NASA researchers have in the last decade studied various efficiency improving technologies that could be practical for jets that will replace today's narrowbody aircraft – meaning Boeing's 737 and Airbus's A320neo-family of jets.
It has evaluated designs such as "double-bubble" fuselages, aircraft with "blended-wing" bodies and the truss-brace concept.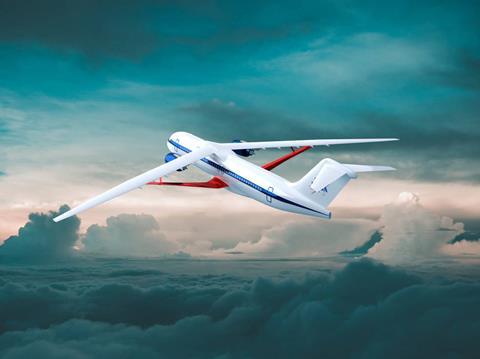 NASA previously partnered with Boeing to advance the truss-brace design via its Subsonic Ultra Green Aircraft Research programme.
In 2019, Boeing revealed a conceptual Mach 0.8 truss-braced airliner featuring folding wings with a span of about 52m (170ft). By comparison, the wings of a Boeing 737 have a span of around 35m. Boeing says it has already spent $110 million in "recent phases of sustainable aviation research".
"We have been… working on tech like this for well over 15 years," says NASA's Pearce.
Boeing is widely expected in the 2030s to bring to market a new narrowbody aircraft to replace 737s.
NASA deputy administrator Pam Melroy describes the demonstrator programme as reflecting "NASA's commitment to reducing carbon emissions in the air transportation system".
This year, NASA intends to complete first flight of two other demonstrators: X-59, a supersonic aircraft designed to have a quieter sonic boom, and an all-electric experimental aircraft called X-57.