Boeing's latest 787 manufacturing issues and associated production cut has raised more uncertainty about the programme, leaving analysts unclear about production rates, the pace of regulatory approval and whether the airframer might take another financial charge against the programme.
On 13 July, the manufacturer said it had discovered a new issue on the Dreamliner involving gaps in the forward pressure bulkheads of undelivered 787s. While not a flight safety issue, the components fail to meet exacting specifications, requiring the company to complete inspections and potential rework on about 100 undelivered 787s.
To expedite the process, Boeing is shifting assembly workers to assist with inspections and rework, and as a result is cutting production to an unspecified rate; 787 output had been at five per month this year.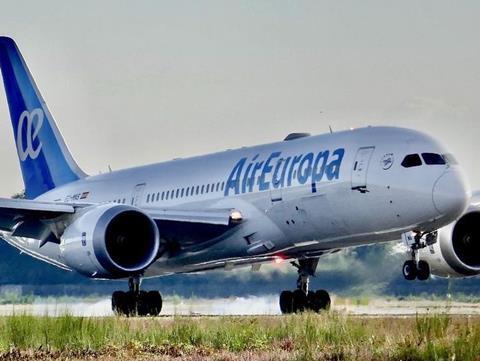 The latest problem comes on the heels of Boeing's May halt to 787 deliveries due to another manufacturing issue involving the flatness of skin at areas where fuselage sections join.
Combined, the two problems could prompt Boeing to take a further financial hit against the 787, analysts say.
"Sustaining a lower production rate with any additional delays puts [Boeing] in danger of another program write-off, which would put it in a forward-loss position," says a 14 July report from financial services company Baird.
"Lower production should pressure the programme booking rate… We cannot rule out a charge," adds a 14 July JP Morgan report.
Boeing uses an accounting method called programme accounting, under which it tallies a programme's entire expected cost, then expenses portions of that against deliveries. Fewer deliveries, or slower production, affect reported finances.
At the end of March, Boeing's programme accounting for the 787 was based on the expectation it will deliver a total of 1,500 examples across its life cycle, according to securities filings. At that time, Boeing had taken 1,436 firm 787 orders, with 428 in its backlog.
JP Morgan says Boeing's disclosure of the new 787 problem raises more questions than answers.
"How much will [management] lower production? What will be the duration of that cut?", it asks. "And more fundamentally, what is the process for Boeing to show the FAA that its 787 assembly process and inspections meet specifications fully?"
The answer to that last question is most critical, says JP Morgan.
And most uncertain.
Boeing halted most 787 deliveries in May after the Federal Aviation Administration said it needed more time to evaluate a Boeing-supplied algorithm intended to aid the company's inspections of the skin-flatness issue. Deliveries remain stopped, except for a single 787 that Boeing delivered to Turkish Airlines in June; Boeing was able to deliver that jet because it had been certificated before recent manufacturing problems, the company says.
Boeing had also stopped 787 deliveries from October 2020 to March due to a similar fuselage issue. Due to the pauses, the company delivered just 14 787s in the first half of 2021. Boeing still holds authority to issue airworthiness certificates for individual 787s, but regulations require the company develop fixes before delivering more aircraft, the FAA says.
"We believe Boeing is still determining the scope of rework required, and we imagine regulators can always pose incremental questions about something as complex as assembling an aircraft," JP Morgan's report says. "There is still uncertainty regarding execution, and it may be some time before [management] can provide a detailed financial path forward."
As delivery delays continue, so too does the risk that customers will cancel orders, notes BofA Securities in a 14 July note. That is because aircraft sales agreements typically allow airlines to walk away from deals with little or no penalty when deliveries are delayed more than one year.
"The delays in deliveries of over a year could start triggering penalties and no-fee walk-away optionality pretty soon," says BofA's report. "We estimate that, within the next twelve months, a third of current 787 orders in backlog will be affected by the [one-year-plus] delay clauses."
Boeing has said it holds about 100 undelivered 787s in its inventory – jets accumulated during the pandemic and the delivery halts. Until this week, Boeing aimed to deliver the majority of those this year. The company now says it is likely to deliver half.
But exactly how many 787s Boeing will actually hand over in 2021 remains difficult to predict because much depends on the FAA's approval.
Financial firm Jefferies estimates Boeing will hand over 72 787s this year, down from 158 in 2019, before the Covid-19 pandemic.
The effects of the 787 production cut will affect suppliers, including Spirit AeroSystems, which could itself be forced to take a charge against the programme, JP Morgan says.
Wichita-based Spirit provides Boeing with the 787 "composite forward fuselage" – called "section 41". Asked if it supplies the forward pressure bulkhead as part of that section, Spirit deferred to Boeing, which itself declined to name the supplier.
Because the pressure bulkhead issue is not a safety-of-flight concern, according to Boeing, the company will address the problem first on undelivered jets before turning to the question of whether in-service aircraft will need rework.