Boeing chief executive David Calhoun believes that the next generation of aircraft will distinguish themselves by the way they are engineered and constructed, rather than through increasingly efficient engines alone.
For example, Calhoun, speaking on the airframer's quarterly earnings call on 28 April, says new aircraft designs will take advantage of advances in new materials technologies such as composites, thus reducing the aircraft's cost and overall environmental footprint, more than just through lower-fuel-burn engines.
"I expect the next product will get differentiated in a significant way on the basis of the way it's engineered and built," Calhoun says. "Less dependent on the propulsion package that goes with it."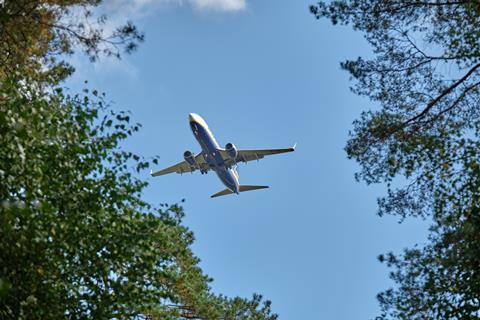 "Most often when a new airplane is developed it's developed around a propulsion package that offers 15-20% improvement with respect to efficiency" over the aircraft it is designed to replace, he adds.
"I don't believe the next generation of engine can deliver that kind of performance."
With pressure growing on the aerospace and aviation industries to reduce their environmental impact and make meaningful strides to fight climate change, airlines and airframers are trying to find ways to make flying cheaper, more efficient and less greenhouse-gas intense.
These efforts include developing new aircraft designs, increasing production and use of sustainable aviation fuels (SAF) made from biodegradable waste, and experimenting with alternative propulsion systems like electric and hydrogen.
"Whatever cost efficiency or performance advantages are derived from the next airplane in my view it's going to come from the way its engineered and the way its manufactured, all with a focus on a lower cost per seat when we get it out to the marketplace, and a more sustainable package with respect to the environment. That's what we ought to be focused on."
Calhoun adds that Boeing's research, especially in composites manufacturing, has given it a significant advantage on figuring out how to use these kinds of materials in its future commercial aircraft designs as well.
"We have invested in composites in our platforms for a very, very long time," he says. "The learning curves associated with getting efficient are significant. How we bring that engineering modelling and the composite development work we have developed through the years and then quick, simple assembly, like we have demonstrated with the trainer airplane and other defence programmes."
Boeing has used this model-based systems engineering approach – a common set of digital designs for engineering, manufacturing and maintenance, as well as flight simulations – on its aircraft designs for the defence industry, including the T-7A Red Hawk advanced jet trainer and the Airpower Teaming System loyal wingman unmanned air vehicle. Model-based systems engineering software tools allow aircraft builders to create a digital twin of a design and then explore its total lifetime cost in various simulations.
"We have prove to ourselves that we can do it at scale," he says. "In my view those are going to be the advantages to that next airplane that is going to get developed."