A ban on aircraft that do not meet new noise standards would do little to reduce overall aircraft noise and would impose costly requirements on airlines and aerospace manufacturers.
That is according to a 20 August report from the US Government Accountability Office into the likely impact of a ban on aircraft certificated under so-called Stage 3 noise standards.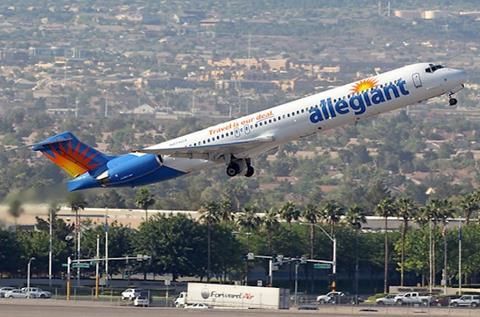 The US government has not implemented such a ban, but Congress required the study as part of the Federal Aviation Administration's 2018 funding bill.
The FAA requires all large commercial aircraft to meet Stage 3 noise standards, generally meaning they generate 89-106 decibels, depending on phase of flight, number of engines and aircraft weight.
But new aircraft type designs proposed by manufacturers to the FAA after 2005 must meet Stage 4 standards, which are about 10 decibels quieter. And designs proposed after 2017 must be a further 7 decibels quieter – the Stage 5 designation.
The GAO's report is based on fleet data collected by the FAA in 2017. At that time, about 3,800 large commercial aircraft in the USA – about 63% of the fleet – were certificated as meeting Stage 3 noise standards. The remaining 37% were certificated as Stage 4 compliant.
But aircraft are assigned those designations when manufacturers propose their designs, not when aircraft roll off assembly lines.
And due to technologic improvements, most aircraft certificated as Stage 3-compliant would actually meet the higher Stage 4 or Stage 5 designations, GAO says.
Specifically, 96% of US large commercial aircraft – about 5,820 jets – that were flying in January are able to meet the higher standards, GOA estimates.
Likewise, it says 86% of regional jets could meet the more-stringent Stages 4 and 5 requirements.
"Engine and airframe technology has outpaced the implementation of noise standards," GAO says.
It adds that US airlines have since retired noisier aircraft like McDonnell Douglas MD-80-family aircraft, meaning an even higher percent of the remaining fleet would be compliant.
Based on those figures, GAO concludes that a rule prohibiting airlines from operating Stage 3-compliant jets would "provide limited noise reduction and limited other benefits, and could be costly and present other challenges."
If the FAA did prohibit such jets, the industry would be forced to ground the aircraft or have them re-certificated to the higher standard, either of which would be costly, according to GAO.