Digital-engineering and -manufacturing processes have already revolutionized how aerospace products are designed and built.
But aerospace companies are now working to bring digital technologies to higher levels, making use of new blended digital tools capable of generating double-digit savings, say experts who spoke on a FlightGlobal-hosted digital-engineering webinar, sponsored by Siemens, on 29 September.
But challenges exist, including the difficulty of convincing business managers to invest in new systems amid the remarkably severe aerospace industry downturn.
"Our aim is to halve the time it takes to get our products to market," BAE Systems manufacturing technology director Andy Schofield said during the webinar. Technology enables the "taking of significant lead times out of manufacturing details and processes".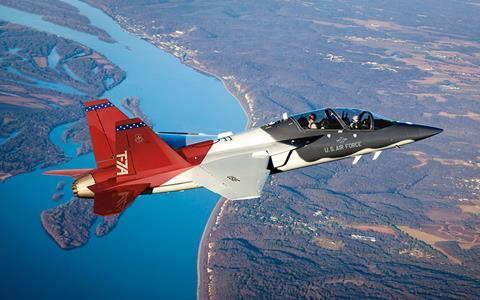 Some customers of aerospace technology company Siemens Digital Industries Software are "consistently" achieving 20-30% reductions in development cycle times, says Siemens vice-president of aerospace and defence Dale Tutt.
Savings can compile with each generation of new products and technologies. "It really starts to add up," he says.
Defense companies and major civil aircraft makers have been using digital system for decades. Boeing, for instance, brought such technologies to bear on development of its 777 several decades ago.
Initially, digital systems enabled transition from physical design "drafting boards" to computer-aided designs, and also involved digitising formerly-paper records.
New systems employ machine learning, artificial intelligence and digital-twin capabilities.
Critically, aerospace companies are increasingly blending various technologies together, enabling different design and development teams to access various data. Companies are also bringing suppliers onboard – giving them access to systems, which benefits the broader manufacturing ecosystem.
Manufactures can increasingly sidestep the process of "extracting" relevant data and sending that data to suppliers. Rather, technology allows suppliers to "reach in and grab" the data they need, says Paul Niewald, Boeing chief T-7A engineer and senior director.
Boeing brought "product-definition software" to bear in developing its T-7A trainer. Nodding to technology used to create the T-7A's, the US Air Force recently bestowed the letter "e" to the aircraft's name, calling it the eT-7A.
The move is part of a broader USAF effort to add an "e" to programmes that make full use of digital-engineering technology.
"Digital engineering allowed us to… connect a lot of things together that previously we hadn't, so that we all had that information at the same time and were all working with the most-current data set," Niewald says. "We kept in cadence so that one team didn't get out in front of the other… You always had this loop back."
"The thing that has really transformed the way we are designing and building airplanes is moving individual elements to… comprehensive digital plans… connected by digital twins," adds Siemens' Tutt.
Experts also expect design, development and manufacturing technologies will become "more virtual" in the coming decades, and will include more artificial intelligence.
"Designers will get to see the impact of their design downstream," Niewald says. "We are going to see more compression of times… We are going to see these programmes continue to get faster."
BAE's Schofield expects companies will shift to "autonomous and automated movement of parts through the factory".
But advancing to higher degrees of digitalization can require significant investment, and fighting for funds during a downturn is no easy task.
"Gone are the days where's there's a lot of discretionary funds to do R&D," says Niewald. "The business case needs to be put together… It is difficult."
Siemens has produced a white paper on the importance of the digital thread across the aerospace and defence product lifecycle