Boeing needs to launch a mid-market aircraft if only to prove out manufacturing technologies required for a 737 Max successor, according to a leading aerospace analyst at financial services firm Baird.
While upbeat in his overall view of Boeing, Peter Arment, senior research analyst for aerospace and defence at Baird, told a 14 July media roundtable that time is not on the airframer's side.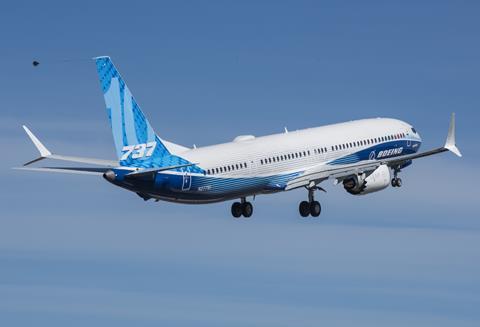 Boeing has been eyeing the space between the largest 737 Max and smallest 787 for some years and had seemed poised to launch its New Mid-market Airplane (NMA) at the end of the last decade.
However, the twin punches of the 737 Max grounding and the pandemic-induced air transport crisis have put those plans on the back burner.
Boeing believed the NMA would help it "hold its market share against Airbus and commercialise new technology" – particularly high-rate composite production – for an eventual Max successor and Arment argues that those strategic considerations still apply.
Boeing has yet to indicate what, if any, plans it has for a mid-market aircraft, but Arment thinks it possible the company will launch development by 2023 for service entry in the 2027-2028 timeframe.
While Boeing no longer has the "luxury" of time on its side, and has a balance sheet weakened by the Max crisis and the pandemic, Arment believes doing nothing is not an option.
"They need to basically push the envelope on introducing technology that they think is going to help them with what the real big decision will be – the replacement of the 737 Max."
Should Boeing successfully demonstrate higher-rate production of composite components "that will allow them to make a better informed decision when ultimately they have got to make the big call at the end of this decade".
Airbus will face a similar dilemma with its approach to the future of the A320neo "but they have less pressure on them – Boeing clearly needs to do something".
Airbus has had success with the long-range XLR variant of the A321neo, so far netting 426 orders for the 4,700nm (8,700km)-range narrowbody.
Boeing could look to challenge the XLR directly, but with the lack of a "compelling" engine option in the required timeframe, in Arment's view is more likely to consider a small widebody to allow a better cabin experience.
Despite the future strategic challenge for Boeing, Arment is bullish about the airframer's prospects. He sees the air travel market recovering faster than previously forecast – short-haul traffic could recover to 2019 levels by late 2022, he thinks – spurring demand for new jets.
"There are more orders to come," he says of the 737 Max, pointing to the disparity between the installed base of 737NGs and the Max backlog. "There should be a lot of order flow through."