Irish aircraft lessor Nordic Aviation Capital has become launch customer of Embraer's E-Jet passenger-to-freighter conversion programme, with plans to have 10 of its aircraft converted.
Embraer disclosed the news on 9 May, about one month after the Brazilian airframer launched the conversion programme.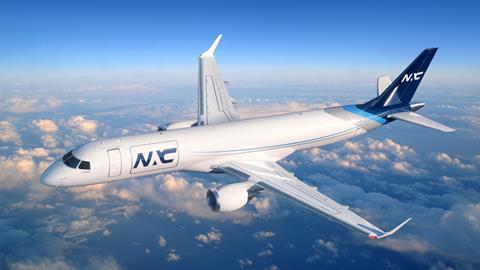 Nordic and Embraer "reached an agreement in principle [for Nordic] to take up to 10 conversion slots", Embraer says. Deliveries are to start in 2024.
The converted aircraft will include E190s and E195s currently in Nordic's fleet, Embraer adds.
"Today's announcement with [Nordic] is a strong indicator of the demand we are seeing for our E-Jet freight conversions", says Embraer Commercial Aviation chief executive Arjan Meijer.
"We look forward to working with Embraer on developing an operator base for the E-Jet Freighter as cargo conversions are a key element of our full-life-cycle portfolio strategy for the future," says Nordic CEO Norman Liu.
Embraer revealed its E-Jet passenger to freight conversion programme on 7 March. It is offering conversions of E190s and E195s.
The move comes at a boom time for the air cargo industry, which has been on a rapid expansion trajectory in recent years due partly to surging demand for e-commerce shipments.
Embraer has described cargo-configured E-Jets as ideal replacements for older small narrowbody freighters. The E-Jet's cargo capabilities sit between those of, for instance, ATR turboprops and Boeing 737-300s, Embraer said.
Embraer will complete the passenger-to-freighter conversions at its facilities in Brazil. Modified work includes equipping the jets with main deck cargo doors, cargo handling systems, floor reinforcements, rigid cargo barriers and new smoke detection and air management systems, the company says.
Embraer says E190Fs will be capable of carrying up to 10,700kg (23,000lb) of payload, while E195F's will have a payload limit of 12,300kg.
Embraer estimates demand exists for conversions of 380 E190s and 90 E195s, according to its website.