Amid the tens of advanced air mobility vehicle concepts in development, Odys Aviation's approach to the potential aviation revolution has an interesting twist.
Instead of a short-range vertical take-off and landing (VTOL) vehicle – similar to all-electric designs being developed by Lilium, Archer Aviation, Joby Aviation, Embraer and Wisk Aero – Odys is looking to build a craft that can fly at high altitudes and will connect regions hundreds of miles apart.
Odys says its concept is "not another flying car". It will have sufficient range to cover 65% of current US domestic air routes, making the hybrid-electric craft a viable replacement for some regional aircraft flying today.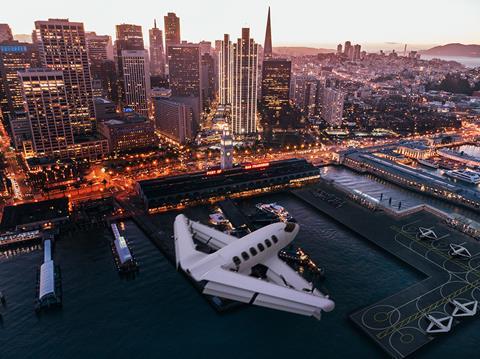 The company was founded in 2019 under the name "Craft Aerospace", and has been keeping a low profile as it quietly pitches to investors, tests a sub-scale model and mines the sector for more engineering talent to push forward on its mission.
That mission, Odys founder and chief executive James Dorris tells FlightGlobal on 7 April, is twofold: "We want to significantly cut carbon dioxide from the airline industry on these regional routes, and also cut the door-to-door travel time on some of the busiest routes in half."
The company's website reveals few details about its concept, but its renderings depict a unique, futuristic blown-wing design with a small cabin (that seats nine, Dorris says) and 16 propellers.
The propellers will not tilt, like they do on Archer's Maker or Joby's eVTOL – a major difference when it comes to how the aircraft stays airborne.
"Tilting mechanisms have some great upside but also some potential difficulties," Dorris says. "So we have built the vertical take-off and landing system based on a high-lift flap."
"We extend the flaps, just like on any other commercial aircraft. Ours are slightly bigger, and extend at a greater angle. That's what we use to deflect the airflow from our propellers vertically down, generating lift." Initial flight tests with the sub-scale model have proven the viability of the design.
The company, based in Long Beach, California, has raised $18 million in seed funding and expects to launch "quite a big" Series A investor round in the coming months, he says. Dorris and Odys' head of product Axel Radermacher have spent much of the past year gauging interest amongst airlines and business jet operators.
"We're at an early stage, and we're very pleased with the level of interest we have gotten so far," Dorris says.
The company has already revealed one deal – a letter of intent for 200 aircraft, with options for an additional 400, from regional airline JSX Air.
"JSX's whole business model is about reducing travel friction. They call themselves the 'hop-on, hop-off airline' and their goal is to get you from curb to wheels up in 20 minutes. But they still have to operate out of big airports because their aircraft need long runways. We can give them a platform where they can move out of those big airports… and get closer to their customers, allowing them to do what they do best and taking it to a whole other level."
Odys has a two-phase plan to address market needs. The first will utilise smaller municipal airports in large metropolitan centres – infrastructure that is readily available.
"Instead of flying from Los Angeles International airport to San Francisco International airport, two massive airports that you're going to waste a lot of time at, we want to fly people directly from Santa Monica airport to Palo Alto airport," says Dorris. "We can do that with existing infrastructure on existing flight corridors and the existing air traffic control system."
"And once you start building up that network, you're already going to be massively improving that travel experience for customers. It's basically a private aviation experience," he adds.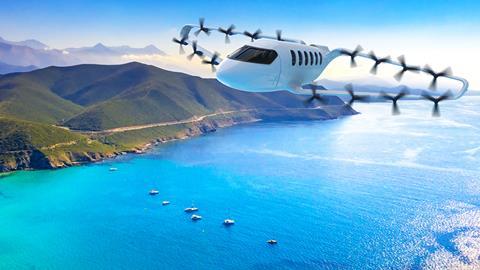 The second phase will involve development of helipads, vertical take-off and landing zones and other infrastructure in high-value population centres, enabling operations from busy downtown regions.
As Odys ramps up its workforce – currently at 12 people, but slated to double by year-end – the start-up is also building a larger prototype.
"We're focused on building the first human-scale version of our aircraft," Dorris says. "We've previously flown smaller aircraft with a three-foot wingspan. This next aircraft is a one-seater with a 20-foot wingspan. We'll start assembly on that aircraft this summer, and first flight [will be] later this fall."
Odys is targeting certification of its aircraft in late 2026 and aims to start commercial operations in mid-2027.
That's an aggressive timeline for a company that was launched just three years ago. But with aviation's ambitious climate change mitigation goals looming on the horizon, more airline executives are looking for unique and unusual ways to bring down their carbon emissions.
"The airline industry is still learning about next-generation aircraft like ours," Dorris says. "It's our job is to ensure that the airlines know that we exist, know what we're doing and know what our aircraft can do to help them meet some of their sustainability targets, which is a huge topic in the industry now."