A US company called Otto Aviation has revealed a prototype of an efficient, long-range, fuel-powered passenger aircraft called Celera 500L.
The company has completed 31 test flights of the prototype, which Otto says derives unmatched efficiency from a design that maximises "laminar flow".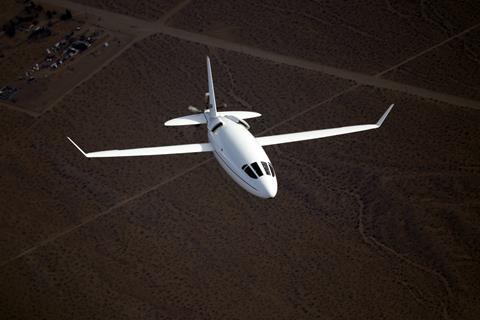 Otto Aviation aims to receive Federal Aviation Administration certification for Celera and to begin deliveries in the 2023-2025 time-frame, it says on 26 August.
The company is pitching Celera to the private aviation market and compares the aircraft's performance to existing types like Cessna Citation CJ3+ light jets and Beechcraft King Air 350s.
Led by chief scientist and aerospace veteran William Otto, the company insists Celera will be significantly more efficient and cheaper to operate than comparable types.
"Our goal was to create a private aircraft that would allow for direct flights between any city pair in the US at speeds and cost comparable to commercial air travel," says William Otto.
Designed to be a six-passenger aircraft, Celera is powered by a single German-made Red Aircraft A03 powerplants that can burn jet fuel or bio-diesel. The engines produce more than 550hp (410kW) and have a V-12 design.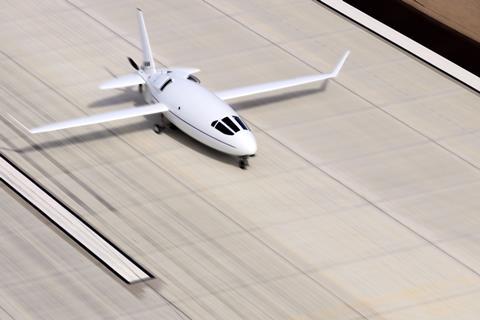 "The design of the Celera fuselage takes advantage of an optimum length-to-width ratio to maximise laminar flow," Otto Aviation says. "These benefits will not scale for large jet transports and are therefore well suited for an aircraft like the Celera."
Air flowing around an aircraft becomes turbulent due to friction between it and aircraft surfaces, increasing drag and reducing fuel efficiency, NASA papers say.
Laminar air flow is essentially smooth-flowing air, unhindered by turbulence.
Otto Aviation says laminar flow is "the minimum drag solution for aircraft surfaces, and features smooth layers of airflow with little-to-no mixing of adjacent layers".
As a result, Celera's drag will be 59% less than that of "similar-sized conventional aircraft", according to the company.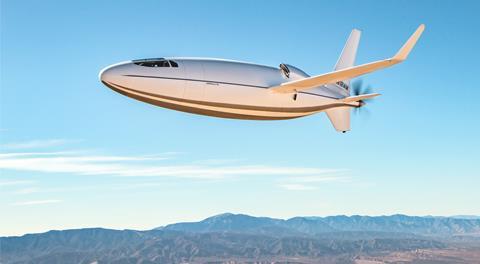 Celera 500L will have range of 4,500nm (8,300km), cruise speed in excess of 391kt (724km/h) and an hourly operating cost of $328, says the company. The design will allow the aircraft to travel 16-22nm on a gallon of fuel, compared to about 2-3nm per gallon for comparable jet aircraft.
The cabin is about 72in (1.8m) tall and accommodates six club seats.
Chief scientist William Otto established Otto Aviation in 2008. His career included time as research scientist at Los Alamos Scientific Labs, where he worked on tactical nuclear weapons and conducted torpedo research. He also worked at North American Aviation, leading systems engineering for the Minuteman missile guidance system and as chief scientist for the Rockwell B-1 Lancer bomber avionics studies programme, the company says.
Story corrected on 27 August to note that Celera is powered by a single engine.