The coronavirus-led airline industry downturn seems to have left airlines with two means by which to cull the number of jets in their fleets.
They can keep flying old jets longer while slashing their number of new aircraft deliveries, or they can ground older, less-efficient jets while continuing to acquire new aircraft, analysts note.
Which strategy airlines will ultimately take remains uncertain, but analysts say the outcome could determine which segment of the aerospace market – OEMs or aftermarket providers – fare best amid the downturn and eventual recovery.
"We still can't be sure whether airlines will prefer to buy more new planes [and] retire more old planes, or buy fewer new planes [and] retire fewer old planes," says a 5 April research report from JP Morgan. "This tradeoff has major implications for investors."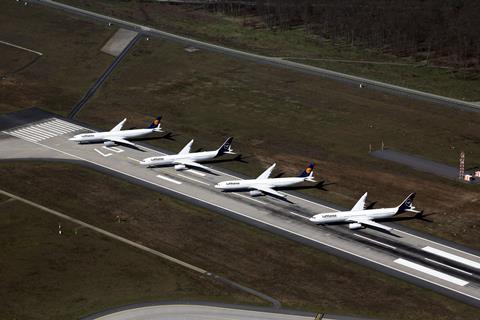 "It's going to be a delicate balancing act," says analyst Richard Aboulafia with Teal Group. "Cheap fuel sure incentivises people to keep 25-year-old jets."
Aboulafia has repeatedly stressed the important role fuel prices will play in determining how airlines respond to the near-total collapse of air travel demand. The efficiency gains of new aircraft, he notes, are significantly less valuable when fuel is cheap.
Jet fuel prices had slipped 64% in one year to 71 cents per gallon on 3 April, according to the latest data available through IATA. Lobby group Airlines for America's data shows a gallon of jet fuel cost just 66 cents on 9 April.
While cheap fuel makes old jets attractive, Aboulafia suspects billions of dollars in possible government loans to airlines and aerospace companies will influence fleet decisions. For instance, if Boeing applies for and receives funds, it might keep producing aircraft despite sour demand. Such oversupply could result in "new-jet sales terms" that airlines would find difficult to refuse, he says.
The US government's recently-passed coronavirus relief package provides passenger airlines with up to $25 billion in loans. It makes another $4 billion available to cargo airlines and $17 billion for companies critical to national security, a category suspected to cover Boeing.
JP Morgan says fleet decisions will determine whether the "relative winners" of the coronavirus downturn are OEMs like Boeing and Airbus or aftermarket and maintenance suppliers.
The bank estimates the globe's airlines will remove 6,900 aircraft from service in 2020, including 4,800 narrowbodies and 2,100 widebodies.
It also lays out potential recovery scenarios..
If airlines favour new jets over old, they might take delivery of up to 7,775 new aircraft between 2020 and 2024, while retiring some 5,700 old jets – a scenario benefitting airframers.
"Carriers would probably prefer this outcome since… new aircraft remain the best hedge against fuel costs that are unlikely to remain at current lows in the long term," says JP Morgan. "In addition, governments and carriers may prioritise newer, more fuel-efficient aircraft to further de-carbonisation."
However, if old aircraft remain in favour, airlines might acquire only 5,600 new jets and retire only 3,600 aircraft through 2024, proving more benefit to aftermarket suppliers, JP Morgan says.
"This outcome reflects the reality that airlines may minimise [capital expenditures] and seek to maximise utilisation of their existing fleets, given the financial constraints under which they are likely to emerge from this crisis," the investment company says.