Disruptive alternative propulsion will not come to aviation in leaps and bounds, but will require time, significant investment and partnerships between major manufacturers and small, nimble start-ups.
That is according to aerospace propulsion experts who spoke on 11 February during a sustainability-focused webinar hosted by FlightGlobal.
They note that while clean-energy propulsion may take years to develop, the pandemic has forced the industry to take a closer look at how next-generation technologies are developed, tested and introduced. The sector must also re-examine how to best contribute to climate change discussions.
"We are seeing a huge opportunity for us to completely reset, go at sustainability from an aerospace perspective and actually start making some fundamental changes," says Neil Cloughley, managing director of UK aviation start-up Faradair.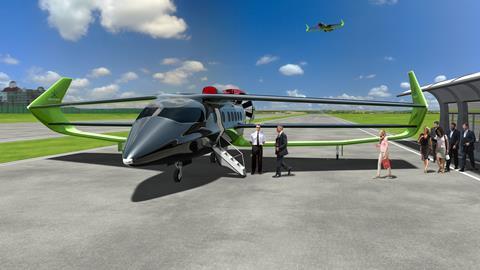 Faradair, which is developing its 18-seat Bio Electric Hybrid Aircraft (BEHA), said in December it selected Honeywell to supply turbo-generators, avionics and flight-control systems. Magnix is to provide the Magni500 electric motors – two for each aircraft – plus control systems.
Faradair has said it intends to deliver an "initial portfolio" of 300 BEHAs in the 2026-2030 period, at a rate of 60 aircraft yearly.
While the initial platform will have hybrid-electric propulsion, Cloughley says the design will allow conversion to a zero-emission architecture – using batteries or fuel cells – when technology has matured sufficiently. This point is likely to come in the early 2030s, he believes.
"We were always going to develop an aircraft that is agnostic of the end-power solution, so we started with the idea that hybrid will have to be the first point of call," Cloughley says during the webinar. "We are building a net-zero airplane for the future. Whatever it's going to be that replaces the turbine, that's what we will put into the aircraft."
The aviation industry accounts for about 2% of CO2 emissions worldwide, according to the Intergovernmental Panel on Climate Change (IPCC). But the sector has committed to reducing its greenhouse gas footprint by 50% by the year 2050, compared to 2005 levels, a target that many insiders describe as extremely ambitious, if not impossible to reach.
European airframer Airbus in September presented three conceptual designs for a zero-emission commercial aircraft, which it believes could be developed for service entry in the next 15 years. Branded as 'ZEROe' aircraft – the aircraft are to use hydrogen as their main power source.
"If we are really targeting climate neutrality, you will need to change the fuel, there's no other options," says Matthieu Thomas, the company's ZEROe aircraft lead architect. "You have to go to hydrogen."
He adds that Airbus is exploring many possible hydrogen-powered designs, including the use of fuel cells (which use hydrogen to create electricity) or hydrogen-powered turbines, or a combination, and whether to build a regional aircraft or larger airliners. It will select a design by 2025 and aims to have the first ZEROe aircraft on the market by 2035.
But using liquid hydrogen requires other fundamental changes to the aircraft, he adds.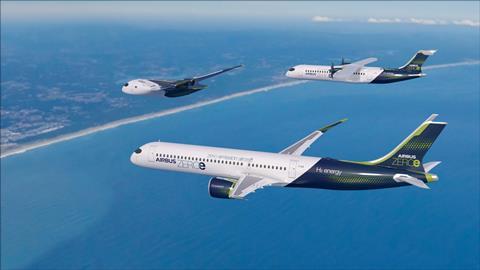 "You can't store liquid hydrogen in the wings, so you have to find another place to store the tanks, which are quite big. Either you put them under the wing or above the cabin or at the rear end of the fuselage. So this will obviously change the aircraft configuration," says Thomas.
"Hydrogen combustion in a relatively conventional gas turbine with some changes in material absolutely is viable and will happen," says Russ Dunn, chief technology officer at GKN Aerospace. "It's a question of when."
But Pratt & Whitney's Michael Winter, senior fellow for advanced technology, says infrastructure required to deliver the volumes needed for widespread hydrogen use must not be underestimated.
"At the largest scale, the infrastructure to have the hydrogen available on the flight line is going to take a significant investment," he says.
"Our industry, coming off the pandemic, is under duress, so the role of public-private partnerships is going to be really important to invest in these technologies," Winter adds. "That would be absolutely phenomenal to leapfrog the industry forward."
GKN's Dunn agrees, adding that governments can help industry with initial investments, until these solutions become self-sustaining.
However, panellists say that even 20 years from now many conventional aircraft will still be flying.
Therefore, to meet emission-reduction goals, the industry must work to make current designs more efficient and cleaner – for example by underwriting development of sustainable aviation fuels (SAF).
"Even if I put on my rosiest of rose-tinted spectacles, we are still going to have 20,000-plus conventional aircraft which we are still going to be delivering to satisfy the broader market needs for decades to come," Dunn says. "Unless we tackle the fuel type that is used on those aircraft we are not going to put a dent in the global impact of aviation on the environment."
Better cooperation between governments, regulators, investors and industry will be key to propelling inventions, and bringing them mainstream.
"The industry is about to go through a massive change," Faradair's Cloughley says, adding that smaller firms will likely tackle the lion's share of early development work, supported by major manufacturers with the financial means to "throw a huge amount of money at some projects".
Only with seamless collaboration between startups and established corporations can the industry significantly contribute to climate-change solutions.
Possibilities, the panellists say, are nearly endless.
"This is going to be a blend… of a whole range of technologies in the next ten to twenty years, and there are going to be some exciting opportunities to be taken within them," Cloughley says.
Watch the full webinar here https://www.flightglobal.com/events-and-webinars/on-demand-webinars