After scrubbing a 2020 flight programme due to coronavirus, the Perlan Project team hopes to fly its high-altitude sailplane in the US Sierra Nevada mountains in early 2021 before returning to Argentina in May.
That's where, from the Patagonian city of El Calafate, Airbus-backed Perlan will seek to bring the pressurised Perlan 2 glider to a record 90,000ft – an achievement that eluded the team this year and last.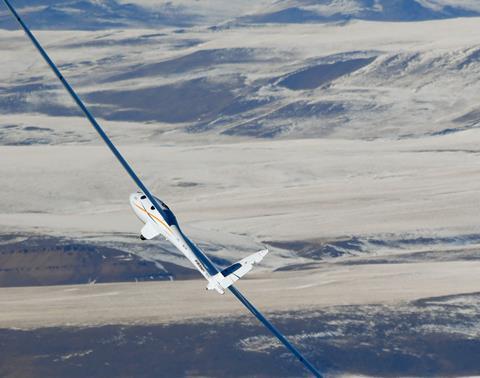 Two years ago, the two-crew Perlan 2 soared to 76,124ft, breaking the world altitude record for a glider and reaching the second-highest altitude ever reached by a winged aircraft.
Before getting airborne next year, Perlan Project is outfitting Perlan 2 with new research equipment, including a radio occultation sensor that can help measure high-altitude water vapour.
Developed by Airbus's Silicon Valley-based innovation division Acubed, the occultation sensor will advance Perlan's mission of helping scientists better understand the upper-atmosphere, Perlan says.
"We don't have a good handle on measuring water vapour up in the stratosphere," says Perlan chief meteorologist and board member Elizabeth Austin. "Vapour impacts climate and weather models." It also contributes to global warming, according to NASA.
The occultation sensor works by measuring atmospherically-induced changes to radio signals transmitted by GPS sensors, says Perlan. The sensor will measure the changes when satellites are close to the horizon.
The sensor comes from Acubed's Project Monark effort to develop aircraft-based atmospheric sensors for the purpose of improved forecasting. Acubed completed Project Monark in June and has since passed the sensor to Perlan.
Austin says such sensors could theoretically be installed on commercial aircraft, which could allow for broad collection of data, which could feed weather- and climate-prediction models.
Perlan published this informational video on 1 September 2020.
Perlan Project's other partners include the University of Nevada, Reno's atmospheric science department, and Canadian company Stratodynamics Aviation, which developed a balloon-launched, high-altitude unmanned glider called HiDron.
Perlan is also involved in projects that include possible collaboration with a still-unnamed European organisation to use Perlan 2 as a "zero-emission research platform".
Founded by former NASA test pilot Einar Enevoldson, Perlan broke the glider altitude record in 2006 when it brought its unpressurised Perlan 1 sailplane to 50,722ft. Those flights were conducted under Perlan's Mission I.
The organisation then moved to the current Mission II flights with Perlan 2, which hit the 76,124ft mark in 2018. With that flight, Perlan 2 bested the known altitude record for winged, manned subsonic-speed aircraft and took the second-place altitude record for a winged aircraft. The only known winged aircraft to have flown higher is Lockheed's SR-71, which has reportedly hit the 85,000ft mark.
On the day of the 76,124ft flight, conditions were right for climbing as high as 90,000ft. But the team chose to stick with a test-programme calling for gradual expansion of Perlan's capabilities, Airbus notes.
Perlan 2 reached 65,000ft during Mission II flights from Argentina last year.
The glider has gross weight of 907kg (2,000lb), a 26m (84ft) wingspan and a cabin pressurised to 0.59bar (8.5psi), the equivalent of pressure at 45,000ft. The team uses a single-prop Grob G-520 Egrett to tow Perlan 2 to altitudes exceeding 40,000ft. The Egrett then releases the sailplane, which can soar using mountain air thermals.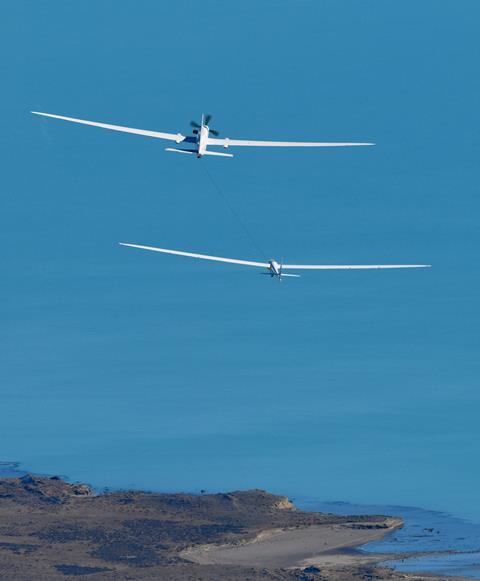 Perlan hopes eventually to bring a sailplane to 100,000ft altitude, though such altitudes require a glider with wings capable of transonic flight.
The nonprofit organisation receives funding from Airbus, other non-profits and individual sponsors.
According to its most-recent publicly available tax filing, Perlan held assets valued at $2.8 million at the end of 2018 and had received about $1.2 million in gifts, grants and contributions between 2014 and 2018. Perlan reported $1.7 million in expenses in 2018. It is headquartered in Beaverton, Oregon and has operations at Minden, Nevada. Perlan's executives did not report taking any compensation in 2018.
2021 FLIGHT TESTS
Perlan hopes to resume Perlan 2 flights in the USA between February and April 2021. Those flights, contingent on Perlan receiving required funding, would occur over the Sierra Nevada mountains and nearby Owens Valley, which Warnock calls "one of the great wave-producing areas of the United States".
Regardless of whether the Sierra Nevada flights occur, Perlan expects to return to El Calafate in Argentina by mid-year. The team will ship Perlan II and related equipment to Argentina for arrival in mid-to-late May 2021. The flight-test campaign will continue until about 15 September 2021, says Warnock.
In Argentina, Perlan 2's pilots will seek to ride Andes mountain air waves to 90,000ft, cracking the SR-71's record.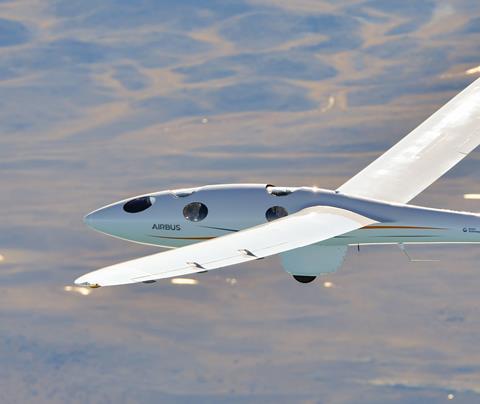 ADVANCING COMMERCIAL AVIATION
Broadly, Airbus views its investment in Perlan as a means to keep on the cutting edge of science and to advance numerous technologies it thinks will benefit commercial aviation.
For instance, Perlan 2's technology includes an air-wave "visualisation system" that helps identify rising and sinking air. Jetliners equipped with such systems could theoretically use those waves to reduce fuel burn, says Airbus. It notes such technology has already been tested using small aircraft.
"Even if it only [provides] a small percentage of efficiency improvement, it is compelling when you scale it up across the landscape of commercial aviation," says Airbus.
Flying at such extremely high altitudes, Perlan 2 can also help scientists better understand turbulence, and possibly better predict it. And high-altitude-air movement data could spur improved aircraft designs, Airbus says.
Wave visualisation technology "may someday have a place in air traffic control or in the cockpits of aircraft… so they don't hit these wave patterns," says Perlan chief executive Ed Warnock.
Airbus also notes conditions at the altitudes at which Perlan flies are similar to those in the Martian atmosphere. Perlan's work could possibly help engineers develop winged aircraft for Mars exploration, Airbus says. The company already helps design and build ground-based Mars rovers and other Mars exploration technologies.
"We really needed to be doing things that nobody else in the world was doing," Airbus says. "Perlan Project certainly embodies that."