Pioneering helicopter engineer Frank Robinson – who greatly expanded access to rotorcraft by designing a series of light helicopters starting with the two-seat Robinson R22 – recently died in his home in Southern California. He was 92 years old.
The late designer possessed an extraordinary drive to succeed that allowed Torrance, California-based Robinson Helicopter to overcome a major early setback – the crash of the first R22 about halfway through the US Federal Aviation Administration's certification programme, says Tim Tucker, 75, a longtime colleague, employee and friend of Robinson's.
"He just absolutely refused to fail, and he wouldn't let you cause his project to fail, either," Tucker says. "He had this will that was especially evident during the years of trying to get the helicopter certified after the crash of the first R22. That could have easily put the helicopter company out of business but he just refused to let anything get in the way."
Robinson died on 12 November in Rolling Hills, Robinson Helicopter says. "Robinson will be remembered for the design and manufacture of the R22, R44 and R66 model helicopters. Known for their simplicity and reliability, the popular helicopters have a distinct profile and can be spotted easily and frequently all over the world."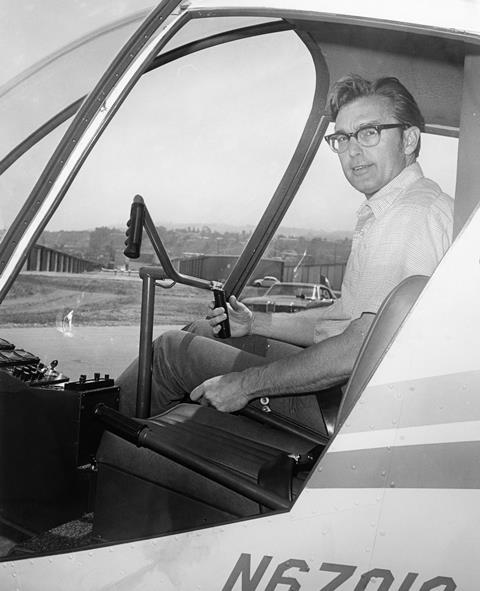 When the company received FAA type certification in 1979 using serial No 2, the RA-22 was the first helicopter to be certificated under new, strict Part 27 rules.
"This little guy on a shoestring with his own design actually got an FAA type certificate under a regulation that was stricter and more difficult, and before other manufacturers had done so," he says. "That's kind of incredible, to do that as a one-man show."
Robinson had a lifelong fascination with helicopters that began in childhood, when helicopters were also in their infancy. Born in Carbonado, Washington in 1930, Robinson studied helicopter design at the University of Washington and the University of Wichita. Starting in 1957, he worked for Cessna on the only helicopter it ever developed, the CH-1 Skyhook.
He later studied inexpensive rotorcraft design with McCulloch Motors, which produced small four-cylinder, two-stroke engines often used to power small gyroplanes. Robinson gained a reputation as a tail rotor expert as his career continued with Bell and Hughes Helicopter.
However, Robinson was unable to pitch helicopter companies on light, low-cost designs for civil aviation. So in 1973 he founded the Robinson Helicopter out of his home in the Los Angeles area.
"This is something he'd always wanted to do – design a small, personal helicopter – and he tried to get other companies interested," Tucker says. "He was in his early 40s and I think he got to the point where he thought, 'If I don't do this now, I'm not going to do it.'"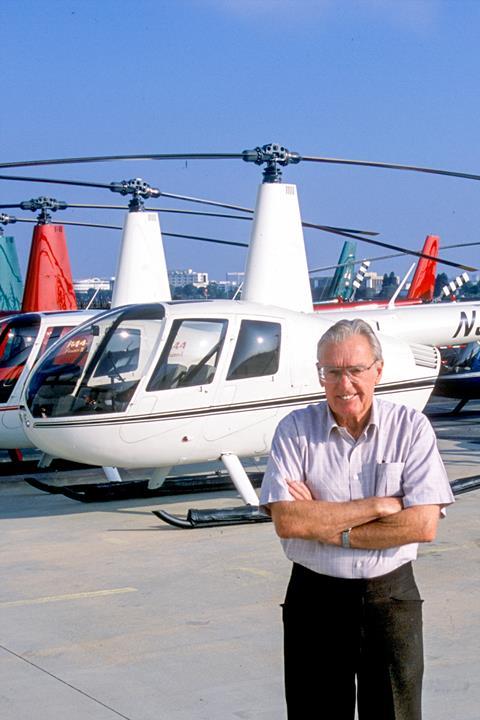 Private-use helicopters hardly existed as late as the 1960s. Robinson, who had earned his private pilot's license in college, "wanted the same thing for the world of helicopters that he'd seen with airplanes", Tucker says.
Robinson was a free thinker who did whatever the job required, Tucker says: "People say, 'This fella thinks outside the box.' You hear that all the time. Well, for Frank, there never was a box. The box didn't exist… That could be seen in a lot of his designs and the way he ran his business."
Most helicopters to that point had been complicated and difficult to maintain, but Robinson focused on machines designed for simplicity and reliability. Every ball bearing in Bell Huey helicopters, for example, had to be greased about every 25h. But not those in R22s.
"The grease would extrude out and attract dirt; it was always an issue," Tucker says. "Well, Frank's helicopter didn't have one bearing that needed to be greased. He was the first with all-greaseless bearings."
In another innovation, other helicopter manufacturers of the era were taking engines that ran at lower RPM in airplanes and tweaking them to provide more horsepower, Tucker says. Robinson did the opposite.
"He was the first one to take an engine that was used in airplanes and run it at lower RPM and ask the engine for less power," he says. "By doing that, he made the engine so much more reliable and last so much longer."
Under Frank Robinson's lead, Robinson Helicopter developed the four-seat R44 starting in the mid-1980s, achieving FAA certification in 1992. He retired at age 80 in 2010 following delivery of the first R66 – a turbine helicopter powered by a Rolls-Royce RR300 engine – and handed Robinson Helicopter to his son, Kurt Robinson, the company's current president.
Living with serious illness, Robinson had not visited the Robinson Helicopter factory for several years prior to his death, Tucker says. He would have been 93 years old in January.