Alaskan airline Ravn Alaska intends to purchase electric-powered short take-off and landing (eSTOL) aircraft being developed by San Francisco-area start-up Airflow.
The Anchorage-based airline, which currently flies De Havilland Canada Dash 8-100s on regional routes within Alaska, signed a letter of intent to acquire up to 50 of Airflow's in-development aircraft, the manufacturer said on 8 June.
Neither company discloses whether Ravn has put any money down as part of the agreement. Airflow intends for its aircraft to be in service in 2025.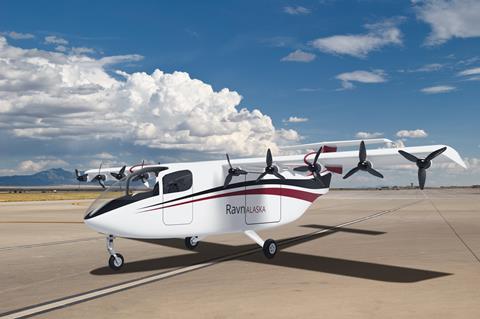 Started in 2019 by five executives who previously worked on Airbus's now-shuttered Vahana electric urban air mobility programme, Airflow is developing at least two eSTOL variants – the Model 100 and Model 200.
The aircraft will be able to land on traditional runways, which differentiates Airflow from the many competing companies – Archer Aviation and Wisk Aero, for example – that are developing electric vertical take-off and landing (eVTOL) aircraft.
Airflow says its design faces fewer regulatory and technical challenges than eVTOLs, which typically require somewhat novel designs involving either swivelling props or a mix of forward-facing and downward-facing props. Also, many eVTOLs under development will require a new infrastructure of landing ports.
"Airflow's hybrid-electric aircraft are able to enter into service with no new infrastructure requirements and
limited certification hurdles compared to other electric aviation market entrants," the company says.
While Airflow confirms it is working on passenger variants, its website only lists specifications for cargo configurations.
The Model 100 will have capacity to carry 227kg (500lb) of cargo, range of 217nm (402km) and ability to take off and land within a runway distance of 46m (150ft), the website says. The Model 200 will have 907kg of cargo capacity, 805km of range and a required take-off and landing distance of 61m.
The aircraft can be used to "supplement existing cargo feeder routes" and will enable operators to benefit from the booming e-commerce market. They will cost one-third less to operate than helicopters or eVTOLs, Airflow says.
Airflow expects its aircraft will initially have a single pilot, though the company expects to bring autonomy to future variants.
Airflow's founders include chief executive Marc Ausman, formerly Vahana chief strategist, chief technology officer Peter Kalogiannis, formerly Vahana aircraft integration and test lead, and former Vahana employees Don Fung, Geoffrey DuBridge and Robbie Bunge.
Airbus shuttered its Vahana project in 2019.