One aerospace supplier says it could struggle to meet demand if Airbus and Boeing significantly hike narrowbody production in the coming years, a warning that recalls the pressured growth conditions that plagued aerospace suppliers prior to Covid-19.
Raytheon Technologies chief executive Greg Hayes says his company will do all possible to keep up should Airbus actually make good on a recent suggestion that it might crank A320neo-family production rates to 75 jets by 2025.
Doing so, however, will not be easy.
"That remains a challenge for us, to get to those levels," Hayes says during Raytheon's second-quarter earnings call on 27 July.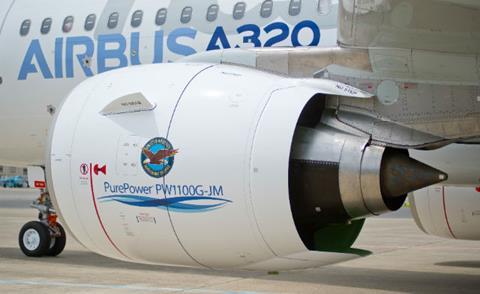 Raytheon owns aerospace suppliers Collins Aerospace, which makes a range of products for Airbus and Boeing jets, and Pratt & Whitney, which makes one of two available engines for A320neo-family jets, the PW1100G geared turbofan.
Hayes says his company has capacity to produce Airbus components at a rate of 63 A320neos monthly – the same rate that Airbus had, before the pandemic, planned to reach in 2021. Instead, Airbus cut A320neo-family production to about 37 jets monthly in 2020,.
But in May, Airbus outlined an aggressive recovery plan, asking suppliers to prepare for potential rates of 70 narrowbodies monthly in 2024 and 75 in 2025. First, Airbus aims to increase A320neo production to 45 jets monthly by year end, and to 64 monthly by the second quarter of 2023.
"We were a little bit surprised… They are being pretty aggressive by showing that 70-to-75-aircraft-per-month figure," Raytheon's Hayes says of Airbus' plan. "Whether or not that rate actually materialises will be the question."
Boeing, still recovering from the 737 Max grounding, has said it intends to ramp 737 production to 31 jets monthly in early 2022 but has not disclosed longer-term rate plans. Prior to the Max grounding, Boeing was producing 53 737s monthly and had talked of increases.
Suppliers – notably engine makers – struggled to keep up in the heady pre-virus years, when Airbus and Boeing were ramping narrowbody production as quickly as resources allowed. During those years, P&W fell behind its aggressive production goals. At the time, Hayes cited supply chain pressures and, in particular, shortages of the metal castings and forgings needed for turbofan production.