US autonomous technology developer Reliable Robotics has cleared an early milestone toward achieving certification of an autonomous Cessna 208 Caravan.
The US Federal Aviation Administration has approved the "certification basis" of Reliable's "advanced navigation and auto-flight system", which it is developing for Caravans, the company says on 23 August.
"This certification basis is the culmination of years of work with the FAA and represents a key step towards bringing advanced navigation and auto-flight systems to normal category aircraft," adds Reliable director of certification Mark Mondt.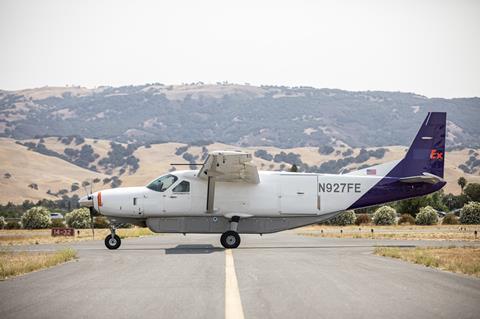 A certification basis lays out airworthiness standards under which the FAA will evaluate an aerospace product.
Reliable, based in Mountain View, California, is seeking approval of its technology under a supplemental type certificate (STC) for the Caravan.
"This STC will enhance safety by enabling continuous autopilot engagement through all phases of aircraft operation, including taxi, takeoff, cruise, landing, braking and rollout, with a single pilot on board for abnormal procedures," Reliable says.
Despite clearing the milestone, much work remains. Reliable says it is now moving "into the next phase of the certification process".
In August 2020, Reliable made news by revealed it had flown a Caravan with a remote-pilot system. The company said it hoped to bring the technology into service on Caravans within as little as two years.
The system consists of avionics, software, mechanisms, communications technology and remote-control interfaces, Reliable said in 2020. A human controller on the ground can oversees flights, it added.
Formed by former Tesla and SpaceX software engineers, Reliable views an autonomous Caravan as ideal for operating cargo flights. It has said its will offer its autonomous technology as an upgrade kit for Caravans.