The chairman of the US Senate Committee on Commerce, Science, and Transportation has introduced a bill aimed at increasing aircraft safety in the wake of two fatal Boeing 737 Max crashes, while the House is drafting a bill expected to seek more aggressive safety regulations.
Republican Senator Roger Wicker introduced the "Aircraft Safety Improvement Act of 2020" based on investigation into the certification process of 737 Max aircraft that his committee began in March 2019. The legislation aims to require the US Federal Aviation Administration (FAA) to eliminate instances of undue pressure or "regulatory coziness" that could lead to lapses in safety protocols.
The committee will have further questions about aviation safety and the ongoing process to recertify 737 Max aircraft for FAA administrator Steve Dickson when he testifies on 17 June.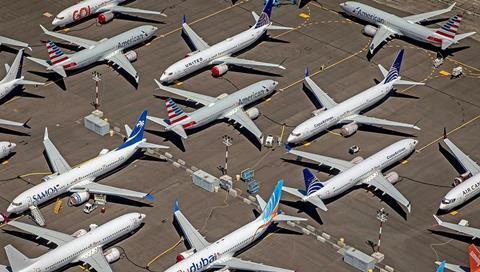 A key part of the bill would address the FAA's Organization Designation Authorisation (ODA) certification process because it potentially allowed Boeing to avoid longer, more thorough safety oversight for Max aircraft. The bill would require the FAA to develop best practices for the ODA process, which allows the agency to delegate data reports during safety certification to individuals or organisations that represent them before the agency grants final certification approval.
Lawmakers and safety advocates have criticised the ODA process for its potential conflict of interest because the jobs of such ODA delegates and engineer whistleblowers are at risk if they report problems during an airframer's certification process. The bill states "at a minimum, the best practices shall address preventing and deterring instances of undue pressure" in case a company attempts to hasten a safety review.
The bill would also require the FAA to coordinate with airframers to develop a Safety Management System, similar to those used by airlines, which determine whether an aircraft is safe to fly after delivery by a manufacturer. This step would include "a documented surveillance process by defining and planning inspections, audits and monitoring activities on a continuous basis" to ensure potential safety risks are addressed, according to the bill.
During flight testing "a representative sample of international and domestic airline pilots" would also be required to provide input about new aircraft.
While lawmakers have determined that Boeing did not share enough information about the automated flight controls created for 737 Max aircraft that contributed to the deaths of 346 victims, investigations showed that the responses of pilots to the automated controls also contributed to the two fatal crashes. To prevent similar mistakes in the future, Wicker's bill would "require FAA to conduct more research into human factors with respect to the design and certification of aircraft".
The Democratic-led House transportation committee is drafting its own bill that will reflect findings from its ongoing investigation into the design, development and certification of Max aircraft, a committee aide tells FlightGlobal partner Cirium. The committee's Democratic leaders – Reps. Rick Larsen and Peter DeFazio – have discussed a more-thorough approach to the certification process, despite concerns voiced by airline industry groups that claim undue influence and safety gaps are very rare.
"Despite the wishes of industry, it would be the height of irresponsibility to leave the ODA system as is and just hope for the best the next time," DeFazio has said. "Not addressing the failures head-on would be a grave mistake and that will not happen on my watch."
There could be stricter regulation of the FAA if Democrats win the Senate during November elections, but the costs of new rules would likely fall on Boeing and other airframers rather than airlines who buy the aircraft, Teal Group aerospace analyst Richard Aboulafia tells Cirium.
"Max sales contracts would transfer the costs of additional pilot training back to Boeing," Aboulafia says. "From an airline standpoint, I don't think it will change much."
The slump in air travel demand related to coronavirus will likely also postpone the need for additional spending on pilot training or mandated aircraft conversion to meet new safety rules, he adds.
Many airlines reduced capacity by 90% or more in response to the crisis, Cirium fleets data shows, but after 16 April global airline capacity began steadily to increase from a low of 12,500 aircraft in service worldwide to 15,125 on 2 June. With that slow pace of recovery there will likely be a surplus of both aircraft and pilots "for a long time", Aboulafia says.