South Korean leasing company Solyu has signed a letter of intent to purchase 25 of Eviation's in-development electric commuter aircraft Alice.
Arlington, Washington-based Eviation disclosed the deal, which includes 25 options, on 6 September, adding that "orders" for the company's battery-powered aircraft – which has been test-flown only once – have now reached a total value of $5 billion. It claims a backlog of more than 500 aircraft.
"Solyu's order is a testament to how lessors are embracing Alice as the future of flight," says Eddie Jaisaree, vice-president of commercial sales at Eviation. "The leasing community is an important constituent in bringing about sustainable change in the aviation industry.
"It is exciting to see a forward-thinking company such as Solyu recognising Alice's zero-carbon technology, economic viability and beautiful design," he adds.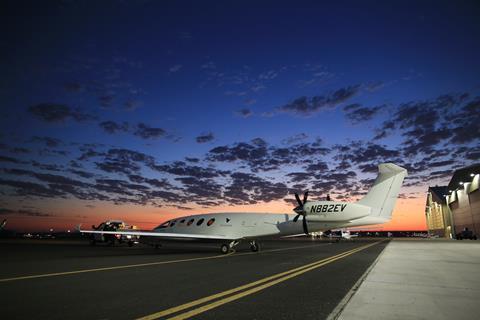 Eviation calls the deal both an "order" and a "letter of intent". The company does not elaborate nor provide additional details. Purchase agreements covering novel, in-development aircraft typically involve minimal cash deposits.
"Eviation will not be commenting on cash deposits," the developer tells FlightGlobal.
Seoul-based Solyu will focus on "financing and leasing solutions for the Alice to a global customer base of operators", Eviation says.
"With aviation regulations focusing on sustainability and airlines demanding to reduce their carbon footprint, we see Alice as a major contributor to meeting those targets," says Andrew Claerbout, president of Solyu. "In addition to its zero emissions, Alice's flexible layout and low operating costs will provide operators opportunities to open new markets."
Solyu is the latest aviation lessor to signal its intention to purchase the nine-seat commuter when it becomes commercially available. In June, Miami-based Aerolease said it intended to buy 50 Alice aircraft, while UK firm Monte Aircraft Leasing signed for up to 30 of the type the month before.
Eviation is pushing hard to achieve certification of Alice, aiming to launch certification test flights in 2025 and to deliver the first aircraft in 2027. A prototype completed an 8min sortie in September 2022 and has since remained grounded.
Chief executive Gregory Davis told FlightGlobal in June that the prototype is unlikely to fly again before certification trials begin, though it remains in airworthy condition.
Eviation is making sure "we are expending resources where we need to", he said, explaining that the company is analysing data from Alice's maiden flight. "Flying the airplane right now would have absolutely no impact on the certification process or the timeline for getting it into service."
Powered by two Magnix 700kW Magni650 motors, Alice will fly at speeds up to 260kt (482km/h) and have about 250nm (463km) of range, with 30min of reserve time.