Spirit AeroSystems' composite-manufacturing programmes continue to weigh on the company amid escalating costs, lagging production rates and a longer-than-anticipated composite-material "learning curve".
That is according to Spirit chief executive Tom Gentile, who on 7 September said the company's composite-structure programmes face "pressure", and that higher production rates will help but not solve the issues.
The troubles highlight tricky challenges associated with composite structures – at a time when the aerospace industry has high hopes of using more of the lightweight materials to produce future narrowbody jets.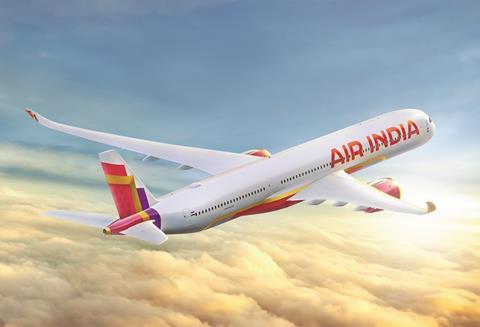 Wichita-based Spirit makes composite forward sections for Boeing 787s, composite centre fuselage sections for Airbus A350s and the A220's composite wings.
"Those are all composite programmes, and we have never really achieved the learning curve, to come down in terms of cost," Gentile says during an investor conference hosted by financial firm Jefferies.
Gentile says producing such components has required more work than the company anticipated, noting that "greater scrutiny on quality" has prompted "new build processes that have added hours". Other factors are at play, including parts shortages and inflation, which have driven up wages and component costs, Gentile adds.
Slow production rates have also negatively impacted Spirit's composite programmes.
Boeing is now producing only four 787s monthly, down from 14 monthly before the pandemic. (Boeing aims to bring 787 production back to a 10-monthly rate in 2025 or 2026.)
"Even from day one, we were never able to get down the learning curve as fast as we expected" on the 787 programme, Gentile says. "The programme has always been under pressure and it is under pressure today."
Similarly, Spirit is now producing components for about five A350s monthly, down from a high of about 10 monthly. "We are having discussions with… Boeing and Airbus about these pressures we are facing, and how to address them," Gentile says.
Spirit in 2020 acquired from Bombardier the A220 wing manufacturing site in Belfast, Northern Ireland.
"It's been disappointing that the rates have been much lower than we expected," Gentile says of the A220 programme.
Spirit started 2023 aiming to produce components for about 100 A220s this year. But Gentile now says Spirit will likely produce components for only 65-70 of the jets in 2023.
He also doubts A220 production rates will hit 14-monthly by mid-decade, which Airbus had specified as a goal. Gentile says that timeline appears to be "pushed to the right".
Recent issues have made clear that composite materials are far more challenging to manufacture than the traditional metallic components long used by aircraft makers. Notably, Boeing has faced numerous quality issues involving 787 composite fuselage structures.
But the structures hold immense promise because they weigh less than metal, meaning aircraft developers, by using more composite materials, could make future narrowbody aircraft lighter and more efficient.
Spirit is now working under a NASA-supported project to develop technology and processes required to manufacture large composite structures at much faster rates – a pre-requisite for future Airbus and Boeing single-aisle jets.
Similarly, Boeing Commercial Airplanes chief executive Stan Deal recently said he is "bullish on composites" for use on Boeing's next narrowbody, which the airframer is expected to introduce in the 2030s.